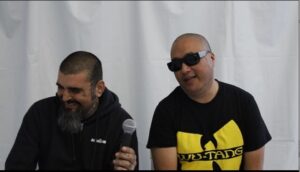 Questions and Answers
Reggae Rock News Interview with lead singer Opie Ortiz & Tim Wu
Reggae Rock News
Reggae Rock News
You have been in the scene since the beginning did you ever imagine that it would become this big.?
Tim Wu:
We have been playing in the scene over twenty-five years if you count Sublime.
How did you come up with your name?
Opie: It is a super-secret thing.
Tim Wu: laughs
chuckles
Opie Ortiz:
Brad came up with Long Beach Dub Allstars and we ran with it.
Reggae Rock News
How does it feel performing in your hometown of Long Beach?
Tim Wu:
It is our backyard right, so it is a privilege for us to kind of hold the torch a little bit you know. Especially after all those backyard parties and all the shows when everybody showed up to see where it is now is crazy great!
Opie Ortiz
It is pretty electric with so many people, it is huge vibes. We look back and all you see is people and the whole dream.
Tim Wu:
What is cool is to see the new generation getting into music. When we were playing in the early 90's – 2000's the scene was not even close to where it is now. We would like to think we had a little bit of a part in that as far as getting the music out there when it wasn't a huge scene like this. Watching it grow is like watching your own kids grow up.
How would you describe your genre?
Opie Ortiz:
We play a lot of just straight-up reggae, dancehall style, play a little surf reggae, guitars are prominent and less horns. Our vibe is our interpretations of a certain type of style all meshed together and our vibe is how it all comes out.
Tim Wu:
But our vibe is always evolving, reggae roots has always been the foundation of what we have always wanted to do. We have changed developed and evolved over the years and you are going to see that on our new album that's coming out. I think that some people will be surprised by the new direction.
Reggae Rock News:
Can you tell us some more about the new album?
Opie Oritz:
It is coming pretty soon it is done. We are just in the final process.
Reggae Rock News
What inspires you? How did you get started and what keeps you inspired?
Opie Ortiz:
In the beginning, Dub All-Stars multi collab and everyone was writing musically and the words. Now the new camp we listen to different vibes, and I will write a track and just go from there.
Tim Wu: The evolution is life itself, so we have grown professionally, and personally our families are growing. We are trying to evolve with that and make just make good music. Playing music had always been our plan.
Reggae Rock News:
Are you playing music full time.
Opie & Tim : Laugh out loud
Opie Not right now with work and family but we are starting to play weekend tours to push the album.
Reggae Rock News:
It must be a challenge to balance family and playing full-time.
Tim & Opie:
Yes, it is!
Reggae Rock News:
I know everyone would love to see Long Beach Dub Allstars in all the lineups. You are amazing and a high energy that everyone loves.
Opie Ortiz: We are trying to make ourselves more available.
Tim Wu: Nobody would love it more than us to get back out there again on the road on a full time.
Reggae Rock News:
Who do you listen to you. Who are some of your favorite artists?
Opie Ortiz: I have a wide array from Florida Preme, Muddy Waters, Os Mutantes, Ibanez Guiterrez, many others, and a lot of reggae, a lot of dance hall reggae, and a lot of digital reggae, blues roots reggae. I try to reach for really classic stuff that cannot be replicated in the era when reggae was not as prominent out here as it was in Jamaica and New York.  The real heavy reggae stuff what i like
Tim Wu: Jazz, I am a horn guy, as for reggae Scientist Big Ups Half Pint these and others really set the foundation. We try to keep it as real as we can.
Opie Ortiz: One of the Beastie Boys that he was listening to, and it really blew my mind because I have the same mindset when he said " there actually is so much good old reggae I do not need to listen to the new stuff". but I still do and always have my ear to the street listening to a lot of new artists because I can appreciate it.
Tim Wu: Just not enough time to listen to it all.
What are some of your best collaborations?
Opie Ortiz: I would have to say Mr. Half Pint reggae ambassador. We toured with him numerous times and recorded with, chilled and have so many great memories embedded in our band and family with Mr Half Pint and our band have memories to last a lifetime.  Barrington Levy, America Kids Matt Lyon,
Who would you like to collab with?
Tim Wu:
Snoop and will make it happen and
We have been blessed and fortunate enough to play with some huge legends to have some great parties with Fishbone and other legends It has been an honor to back, play with, or be behind these great artists. Nash Nor Amera kids
Opie Ortiz: We just had a show with Pato Banton at the House Blue in Anaheim
Tim Wu: Yes, Pato.
Do you have any words for anyone wanting to get into the scene and perform as an artist?
Opie Ortiz:
Study and work hard persevere through all trouble make music as most heartfelt as you can. If it is good music, they cannot deny it. That is how I feel.
Tim Wu: You follow your heart, when in doubt do not even worry about it, just follow where you need to go and your drive, motivation, and love will take you where you need to be.  So for myself it was a big story trying to juggle what should be doing versus what you want to do it is a fine line you can go either way, follow your dreams follow your love.
Reggae Rock News:
Would you like to do any shout-outs?
Tim Wu: We have the new album coming out. Be on the lookout for Long Beach Dub Allstars! We love playing and we will try to make it to everyone's town, we love you guys!
 Opie Ortiz: We will be out there soon to your town!
The end!
From the editor:
Thank you so much for the opportunity to interview. You are truly inspiring with your talent and abilities to be able to stay true to your music and.  Your words of encouragement are priceless to the aspiring artists.