BeachLife Ranch Festival was like a movie- set staged up perfectly. SeaSide Lagoon was the BeachLife Ranch backdrop  with the ocean, sunny skies, and warm California sun in the coastal City of Redondo Beach nestled along the shoreline of the Pacific ocean.  "It 's the roar of a SUnday crowd"  and the thrill of the country fun!. The lineup of legendary artists was incredible with a phenomenal blend of some new and old-school  talent.  The oceanfront three-day festival featured a lineup of music with artists performing throughout the day and evening.  There were thirty-seven artists scheduled to perform across three stages during the inaugural year of the Country & Americana Festival.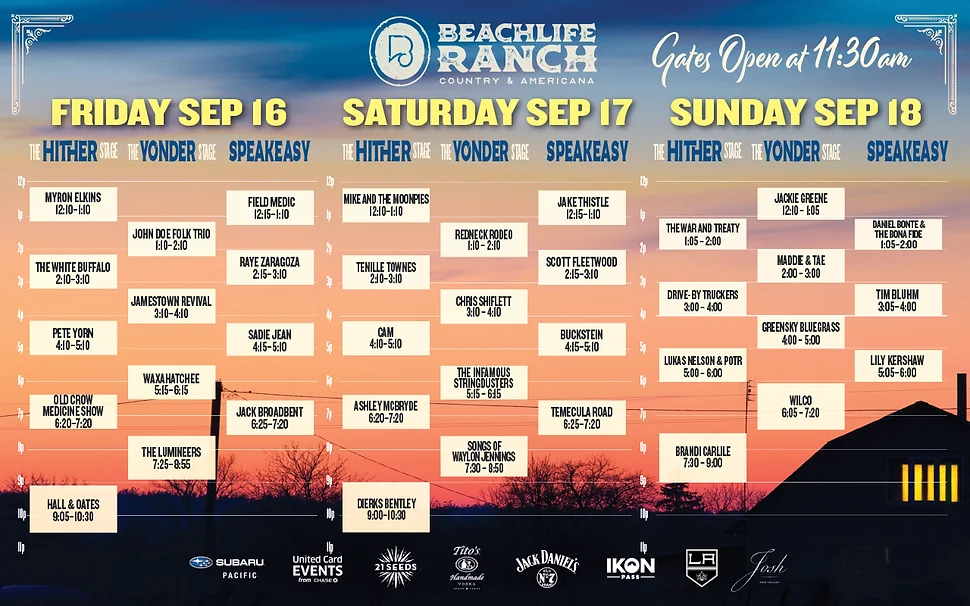 The inaugural year of the Country & Americana Festival on the beach in Southern California was the best vibe for the weekend.   The BeachLife Festival was held in the legendary Seaside Lagoon. "Hither, Yonder, and Speakeasy were the three stages that held down the mix of talent. It was a little bit country and so much more.  The smell of the ocean, warm summer breeze,  Palos Verdes Peninsula, live music and all ages fun  was the vibe  each and every day.  Here is some back history of the artists who performed according to Wikipedia, The Bash, Musicians Bio, SPI, and band managment.
Day One Friday, September 16, 2022
HITHER Stage 
Myron Elkins is a country music artist located in Michigan. With his band, "The Dying Breed," he creates an old-country sound singing about life in his small town
The White Buffalothewhitebuffalo.com is the stage name of American musician and singer-songwriter Jake Smith, a baritone from Oregon influenced by folk musicians like Bob Dylan and Leonard Cohen.Peter Yorn is an American singer, songwriter, and musician. He first gained international recognition after his debut record, Musicforthemorningafter, was released to critical and commercial acclaim in 2001. He is known for playing the bulk of the instruments on his records. Spin magazine, in a career retrospective article dated March 26, 2021, recognized Yorn as one of his generation's best songwriters.[1] Yorn's 10th full length album, Hawaii, was released on June 17, 2022.
Pete Yorn  "One of his generation's best songwriters" – SPIN
Pete Yornrecently released HAWAII, his 10th studio album – the platinum selling artist's career has spanned two decades, with his latest project putting a fresh spin on his Springsteen inspired sound: he moved his piano out of his childhood home in NJ and wrote every song on HAWAII on it, adding a new layer to his signature guitar-led soundscape.
Standout tracks: Ransom, Also Roses, Blood. 
Listen 
HERE
.
In 2019, he released Caretakers, featuring the top 2 AAA single "Calm Down". The New Yorker Magazine praised the album's "dreamy synths-and-strings jangle" and in All Music's 4 star review, they described the music as "lush yet spare, tuneful but not forceful, cinematic yet small scale…an appealing blend that sets it apart from most other albums in 2019."  Yorn performed songs from the album on Jimmy Kimmel Live!, The Tonight Show Starring Jimmy Fallon and Ellen.
Old Crow Medicine Show" is an Americana string band based in Nashville, Tennessee, that has been recording since 1998. They were inducted into the Grand Ole Opry on September 17, 2013.[2] Their ninth album, Remedy, released in 2014, won the Grammy Award for Best Folk Album.[3] The group's music has been called old-time, folk, and alternative country. Along with original songs, the band performs many pre-World War II blues and folk songs. Old Crow Medicine Show,  The Grammy-winning band is touring in support of their critically acclaimed album Paint This Town. I was hoping you might check this out and possibly keep them in mind for your upcoming festival coverage?
One of the most influential and enduring roots bands of the last two decades, 
Old
Crow
 is in top form right now with truly their best lineup to date (view their recent live performance of "
Paint This Town
" to see what I mean). These guys are masters at merging profound songwriting with a rowdy string band revival sound, and their new album is no exception. It's garnered high praise from press including 
American Songwriter
, 
Consequence
, 
Rolling Stone
, 
Garden & Gun
 and 
Associated Press
, with many of them calling this their best record yet! The band's latest single "
Gloryland
" features stunning background vocals from the Kyshona Trio, and was recently praised by 
NPR Music
, who said "If this is any indication of what 
Old
Crow
Medicine
Show
 still has in store so many recordings in its career, we should count ourselves lucky."
The guys will tell you this record is special because it found them falling back in love with the band all over again, and it really 
show
s. They took a far more insular approach than on previous releases, co-producing with Matt Ross-Spang and recording in their own East Nashville-based Hartland Studio (which they bought and fixed up at the start of the pandemic). As a longtime 
Old
Crow
 fan, I think they sound more like themselves here than ever before. It's like they've unlocked a new level of creative freedom, and it's certainly paying off. In addition to receiving some of the best press of their extensive career, the album's debut single "
Paint This Town
" sat at the top of the Americana Singles Radio Chart for a month straight, and they're at well over 1M monthly listeners on Spotify right now.
Read the bio for more insight HERE. 
Photo credit : reggaerocknews.com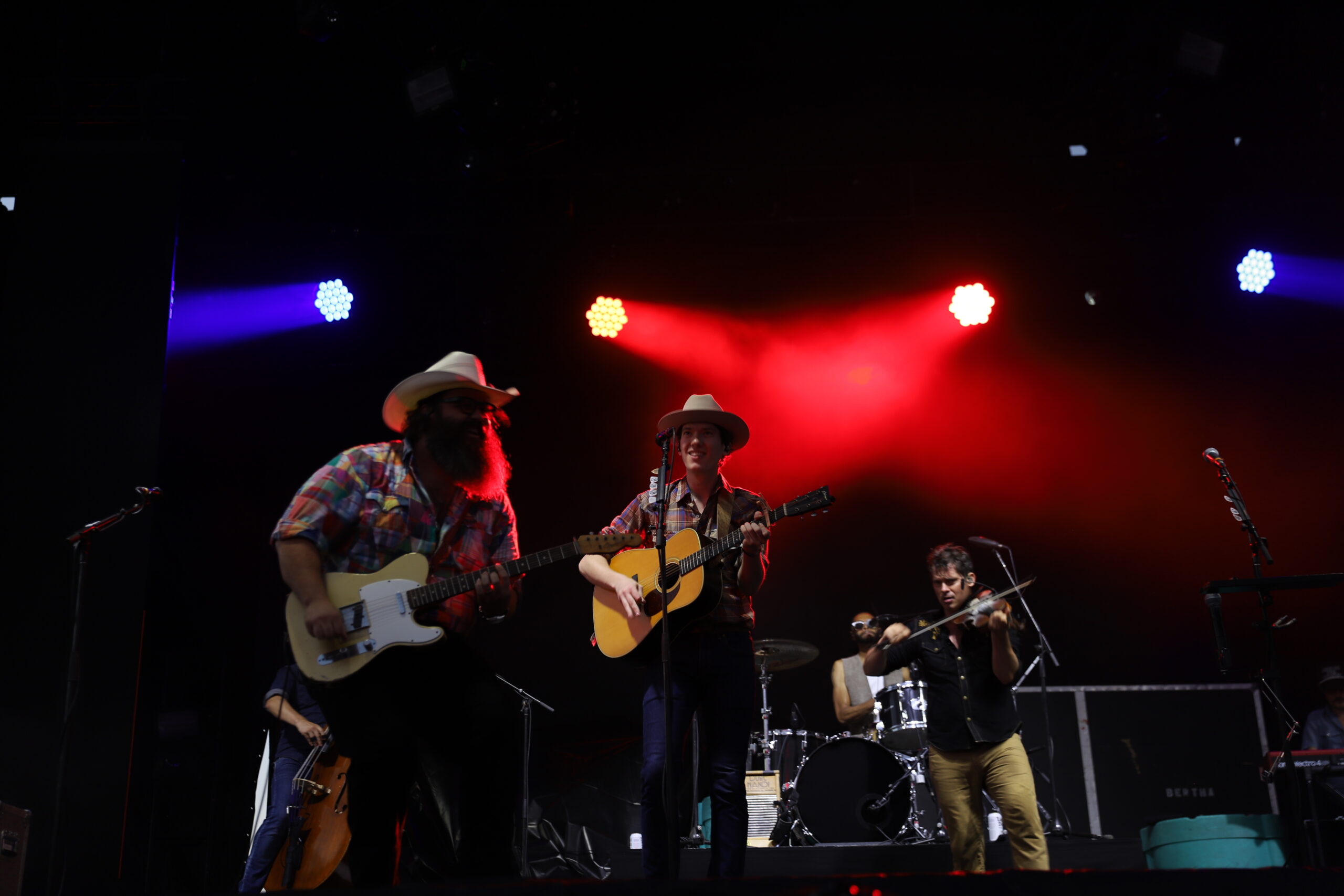 Daryl Hall and John Oates (commonly known as Hall & Oates) are an American pop rock duo formed in Philadelphia in 1970. Daryl Hall is generally the lead vocalist; John Oates primarily plays electric guitar and provides backing vocals. The two write most of the songs they perform, separately or in collaboration. They achieved their greatest fame from the mid-1970s to the late-1980s with a fusion of rock and roll, soul music and rhythm and blues.[2]
Though they are commonly referred to as Hall & Oates, Hall has been adamant about the duo being called Daryl Hall & John Oates – its official name. They have been credited on albums as Daryl Hall & John Oates (or Daryl Hall John Oates) on all of their US releases. The duo reached the US Top 40 with 29 of their 33 singles charting on Billboard's Hot 100 between 1974 and 1991. Six of these peaked at number one: "Rich Girl" (1977), "Kiss on My List" (1980), the two 1981 releases "Private Eyes", and "I Can't Go for That (No Can Do)" (also a Hot Soul No. 1), "Maneater" (1982) and "Out of Touch" (1984). Their overall 16 US Top Tens also include "She's Gone", "Sara Smile", "You Make My Dreams", "Family Man", "Say It Isn't So", and "Method of Modern Love". Seven of their albums have been RIAA-certified platinum and six of them gold.[3] In the United Kingdom, they have achieved success with two Top Ten albums and six Top 40 singles, two of which – "I Can't Go for That (No Can Do)" and "Maneater" – reached the Top Ten. The duo have spent 120 weeks in the UK Top 75 albums chart and 84 weeks in the UK Top 75 singles chart.[4]
While employing a wide variety of session musicians on their recordings, they did have a long working relationship with several musicians who appeared on many of their works and have toured with them. They include guitarist G.E. Smith, bassist Tom "T-Bone" Wolk, and multi-instrumentalist Charles DeChant. In addition, they collaborated with sisters Sara Allen and Janna Allen on songwriting and composing.
In 2003, Hall & Oates were inducted into the Songwriters Hall of Fame. In August 2018, in a 60th-anniversary celebration of Billboard's Hot 100, the duo ranked 18 in a list of the top Hot 100 artists of all time and six in a list of the Hot 100's top duos/groups. They remain the most successful duo of all time, ahead of the Carpenters, the Everly Brothers, and Simon & Garfunkel.[5] In September 2010, VH1 placed the duo at no. 99 in their list of the 100 greatest artists of all time. In April 2014, they were inducted into the Rock and Roll Hall of Fame,[6] and on September 2, 2016, they received a star on the Hollywood Walk of Fame.[7]
Photo credit : reggaerocknews.com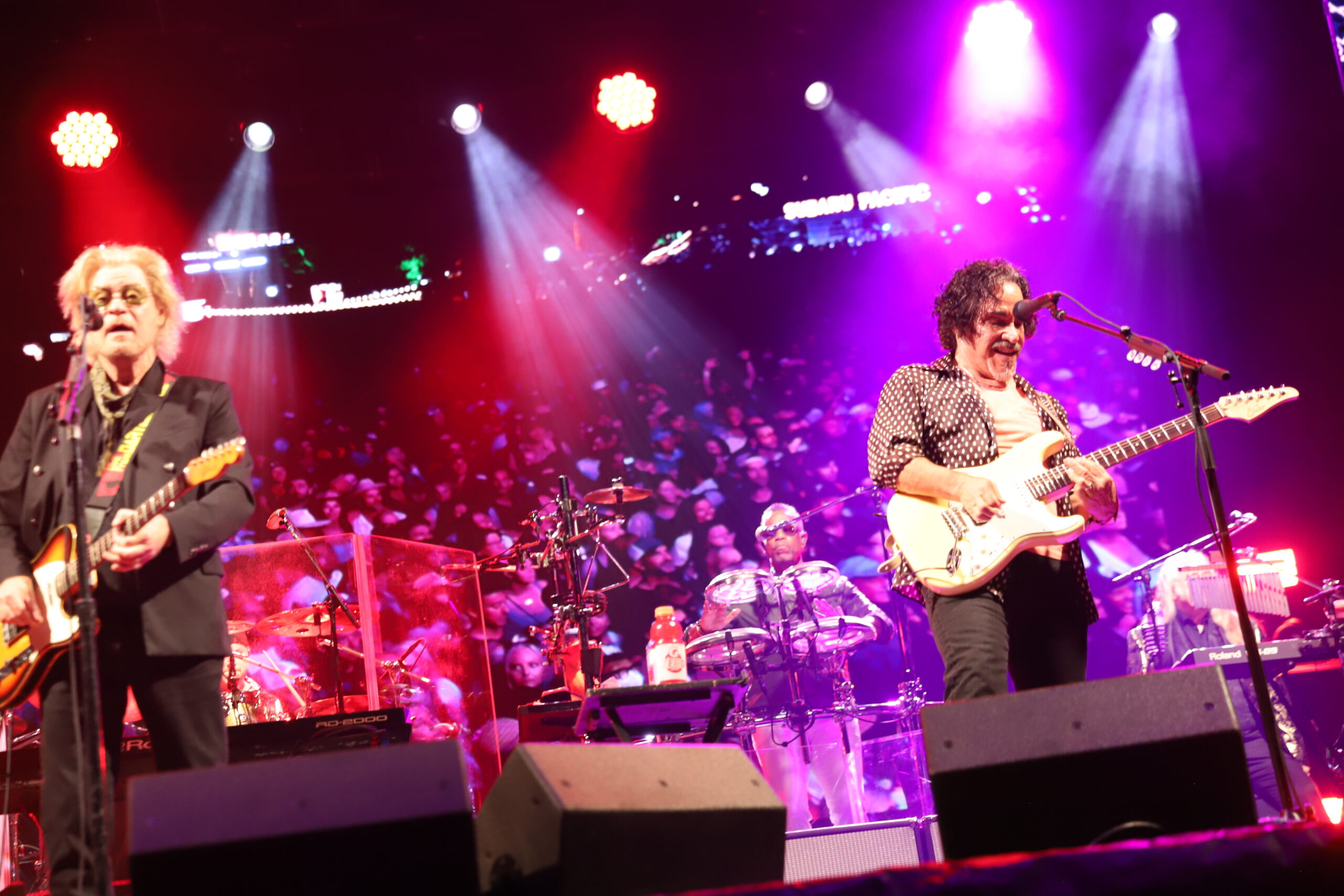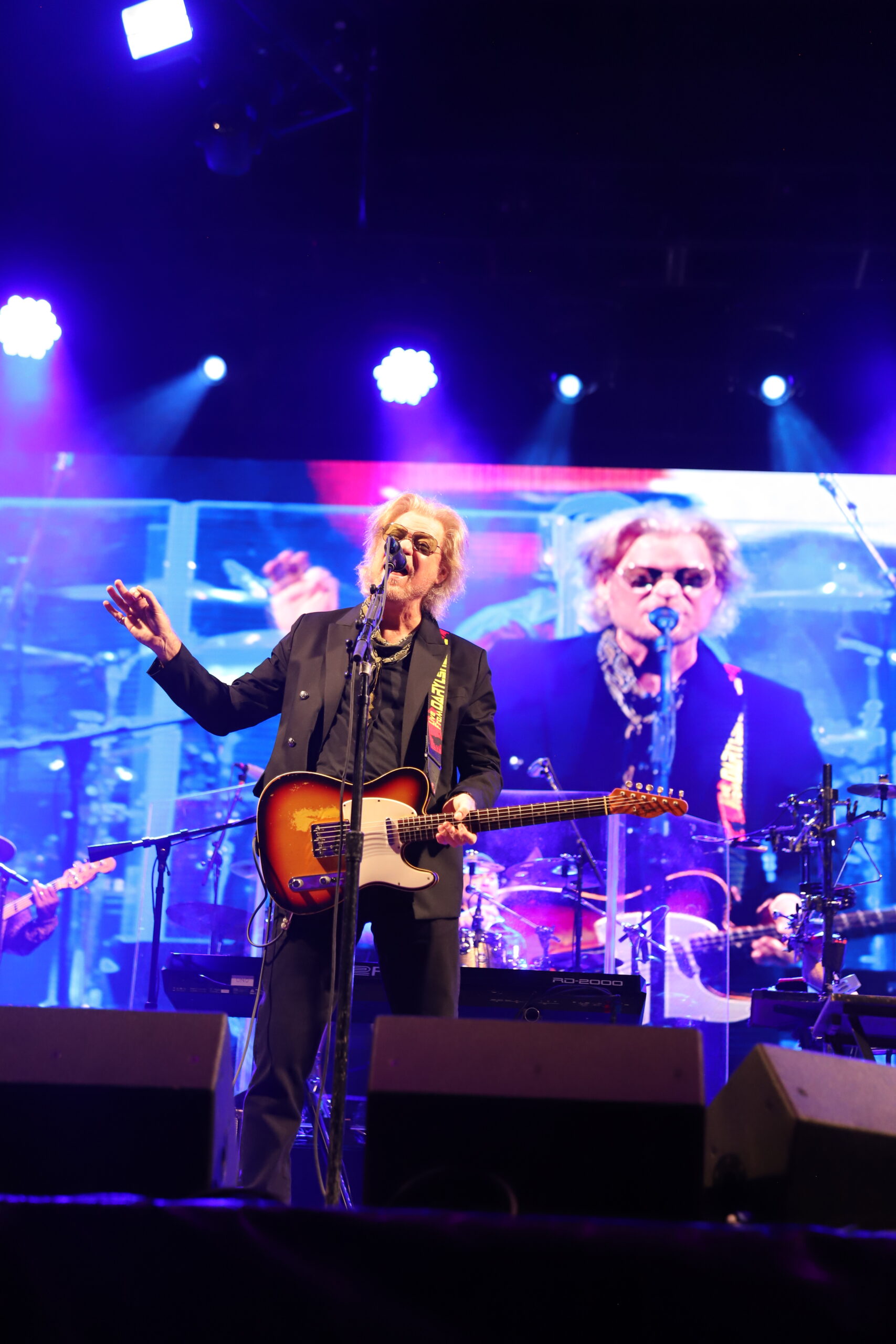 YONDER Stage
John Doe Folk Trio  (born February 25, 1953),[1] known professionally as John Doe, is an American singer, songwriter, actor, poet,[2] guitarist and bass player. Doe co-founded LA punk band X, of which he is still an active member. His musical performances and compositions span rock, punk, country and folk music genres. As an actor, he has dozens of television appearances and several movies to his credit, including the role of Jeff Parker in the television series Roswell.In addition to X, Doe performs with the country-folk-punk band the Knitters and has released records as a solo artist. In the early 1980s, he performed on two albums by the Flesh Eaters
Photo credit : reggaerocknews.com
Jamestown Revival is an American folk duo made up of Zach Chance and Jonathan Clay.[1] The childhood friends from Magnolia, Texas, write songs about everyday life that are a combination of harmonies that merge Southern country, Americana and Western rock music.[1][2] Their first album Utah was originally self-released in early 2014 and then re-released by Republic Records later the same year.[3] iTunes named Utah Best of 2014: Singer-Songwriter Album of the Year.[3] Jamestown Revival has been featured in Rolling Stone magazine and covered in the Wall Street Journal.[4][5] The band has made appearances at music festivals in the U.S., including the South by Southwest (SXSW) music festival in Austin, Texas, Coachella Valley Music and Arts Festival, Bonnaroo Music & Arts Festival, Austin City Limits Music Festival, and a musical appearance on Conan.
Waxahatchee is an American indie music project, formed in 2010 by American singer-songwriter Katie Crutchfield (born 4 January 1989), previously a member of P.S. Eliot. The band is named after Waxahatchee Creek, in Alabama, where Crutchfield grew up.[2] Originally an acoustic solo project, her recordings now tend to involve a backing band, and the music has increasingly been performed this way. Crutchfield, as Waxahatchee, has released 5 albums to date: American Weekend (2012), Cerulean Salt (2013), Ivy Tripp (2015), Out in the Storm (2017) and Saint Cloud (2020).
The Lumineers are an American folk rock band based in Denver, Colorado. The founding members are Wesley Schultz (lead vocals, guitar) and Jeremiah Fraites (drums, percussion, piano). Schultz and Fraites began writing and performing together in Ramsey, New Jersey, in 2005. Cellist and vocalist Neyla Pekarek joined the band in 2010, and was a member until 2018.[1] The Lumineers emerged as one of the most popular folk-rock/Americana artists during the revival of those genres,[2] their popularity growing in the 2010s.[3] The band's stripped back raw sound draws heavily from artists that influenced Schultz and Fraites such as Bruce Springsteen, Bob Dylan and Tom Petty.[4] They are known for their energetic live shows and several international hit singles including "Ho Hey", "Stubborn Love", "Ophelia", "Angela" and "Cleopatra".[5] The band has become one of the top touring bands in the United States[6] and is also popular in other countries.[7]
The Lumineers have released four albums on American independent label Dualtone Records (Dine Alone in Canada and Decca/Universal worldwide).[8] Their self-titled first album was released in 2012 and peaked at No. 2 on the U.S. Billboard 200.[9] It has been certified triple platinum in the U.S. and Canada,[10] platinum in the U.K.[11] and Ireland, and gold in Australia.[12] Their second album, Cleopatra, was released in 2016 and debuted at No. 1 on the Billboard 200, and also on the Canadian and British album charts. It is currently certified platinum in the U.S.[13] Their third album, titled III, was released on September 13, 2019[14] and debuted at No. 2 on the Billboard 200. Their fourth album, Brightside, was released on January 14, 2022. The Lumineers have publicly campaigned to ban mobile phones at their concerts,[15][16] providing a locking pouch for people to hold their phones in during live performances.
SPEAKEASY STAGE
Field Medic is the stage name of American lo-fi musician Kevin Patrick Sullivan He began releasing music with his older brother Sean in 2009, initially as Westwood & Willow and then with drummer Andrew Skewes-Cox as Rin Tin Tiger.[2] He debuted as Field Medic with his first EP titled Crushed Pennies.[3] In 2015, Sullivan released his first full-length album titled Light Is Gone.[4] In 2017, Sullivan released an EP titled if i shout that the revolutions in my blind heart have left me on the mend, would i still have to surrender to the tides to exorcise this possession? on Bandcamp.[5] Also in 2017, Sullivan signed to Run for Cover Records and released his first album on the label titled Songs From The Sunroom.[6][7][8][9] Sullivan's song "do a little dope" was featured on Alternative Press's "20 songs you need to hear this week" list.[10]
Field Medic was featured on a Green Day tribute album singing the song "2000 Light Years Away".
Raye Zaragoza is an American singer-songwriter from New York, NY based in Los Angeles, CA.
Raye Zaragoza was born and raised in Manhattan and moved to Los Angeles at the age of fourteen.[1] Her mother is an immigrant from Japan and her father is of Mexican and indigenous heritage.[2] Her great-grandmother was adopted out of her tribe as young child, raised by a white woman and forced to assimilate.[3]
Raye became involved in school musicals, started playing guitar at age 12, and started writing songs in her late teens.[4] She released her debut EP Heroine in 2015. She started to gain national attention in 2016 with the song "In The River," protesting the Dakota Access Pipeline.[5] Raye and her brother made a video for "In The River" that included facts about Standing Rock and it received 100,000 views overnight.[2] The song was awarded the Global Music Awards' 2017 Heretic Award for Protest/Activist Music[1] and the Honesty Oscars' award for Best Song.[6]
In 2017, she independently released her debut album Fight For You. Her music covers topics related to social justice and her experience as a woman of color.[2] Multiple songs on Fight For You address the Dakota Access Pipeline.[5] "Driving to Standing Rock" portrays the power of protest, specifically of the NoDAPL movement.[7] The song "American Dream" was written in reaction to Donald Trump's election.[8] The album also includes love songs[2] and songs about New York City.[9]
In 2019, she released live recordings of four songs — new song "Warrior," two songs from Fight For You, and one song from the Heroine EP — on an EP entitled Live at Rockwood Music Hall which premiered first on Popmatters.[10]
She cites Joni Mitchell, Carole King, Joan Baez, and Buffy St. Marie as influences.[9]
In 2018, Zaragoza toured with Dispatch and Nahko and Medicine for the People raising funds for Generation Indigenous.[2]
Her sophomore album Woman In Color produced by Tucker Martine was released October 23, 2020 on her own label Rebel River Records[11] and made year-end lists from NPR Music[12] and PopMatters.[13] The album shows Raye embracing all aspects of her mixed-race identity in song.[14]
In 2021, Zaragoza was awarded the Rising Tide Award by the International Folk Music Awards presented by Folk Alliance International.[15]
Sadie Jean Wilcox (born 2002/2003) is an American singer-songwriter. Her debut single, "WYD Now?", went viral on TikTok in 2021.Jack Broadbent\
Day Two Saturday, September 17, 2022
HITHER STAGE
Mike and the Moonpies is an American neotraditional country and Americana band based in Austin, Texas. It was formed by singer-songwriter Mike Harmeier in 2007.[1] Its members are Harmeier and drummer Taylor Englert, guitarist Catlin Rutherford, bassist Omar Oyoque, and steel guitarist Zachary Moulton.[2]
In May 2020, Mike and the Moonpies released Touch of You: The Lost Songs of Gary Stewart, an album of unreleased songs written or co-written by American honky-tonk musician and songwriter Gary Stewart. The band's version of Stewart's "Smooth Shot of Whiskey," featuring Mark Wystrach of the band Midland was released as a single.[3]
Tenille Nicole Townes (born Nadkrynechny; born January 20, 1994) is a Canadian country music singer from Grande Prairie, Alberta. In 2011, at the age of 17, she was nominated for a Canadian Country Music Award for Female Artist of the Year.
Cam (born Camaron Marvel Ochs; November 19, 1984) is an American country music singer and songwriter. She began her career as a songwriter, composing material for several artists including Sam Smith and Miley Cyrus. In 2010, she released her debut studio album Heartforward on an independent record label. Signing with Sony Music Entertainment, she released her debut major label EP in March 2015, Welcome to Cam Country, followed by the studio album Untamed later that same year. Her third album was The Otherside, released on Triple Tigers in 2020. Her second single "Burning House" is her most commercially successful, peaking at the number two position on Billboard Hot Country Songs and Country Airplay. Spurred by airplay on The Bobby Bones Show, the song received widespread acclaim, including a Best Country Solo Performance nomination at the 58th Annual Grammy Awards and a Double Platinum certification by the Recording Industry Association of America (RIAA). Cam's music is defined by country pop stylings.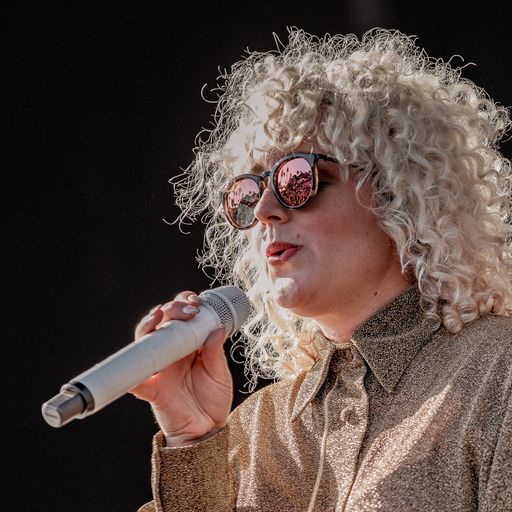 Photo Credit: BeachLife Ranch
Ashley McBryde (born July 29, 1983)[1] is an American country music singer–songwriter. Raised in Arkansas, she was drawn to various types of music from a young age. She also developed a passion for writing songs and later moved to Nashville, Tennessee to pursue a music career.
Between 2006 and 2011, McBryde released a pair of self-released albums. Her 2016 extended play (EP) titled Jalopies & Expensive Guitars drew attention from country artist Eric Church. Hissupport helped her gain a country music recording contract with Warner Music Nashville. In 2017, the label released her debut single "A Little Dive Bar in Dahlonega". The song was followed by her corresponding studio release Girl Going Nowhere (2018). Both the album and the single received critical acclaim and led to recognition from several music associations. It was followed by 2019's Never Will, which was also met with critical acclaim. Its lead single "One Night Standards" reached the top 20 of the American country songs chart and topped the Canadian country survey.
Photo credit : reggaerocknews.com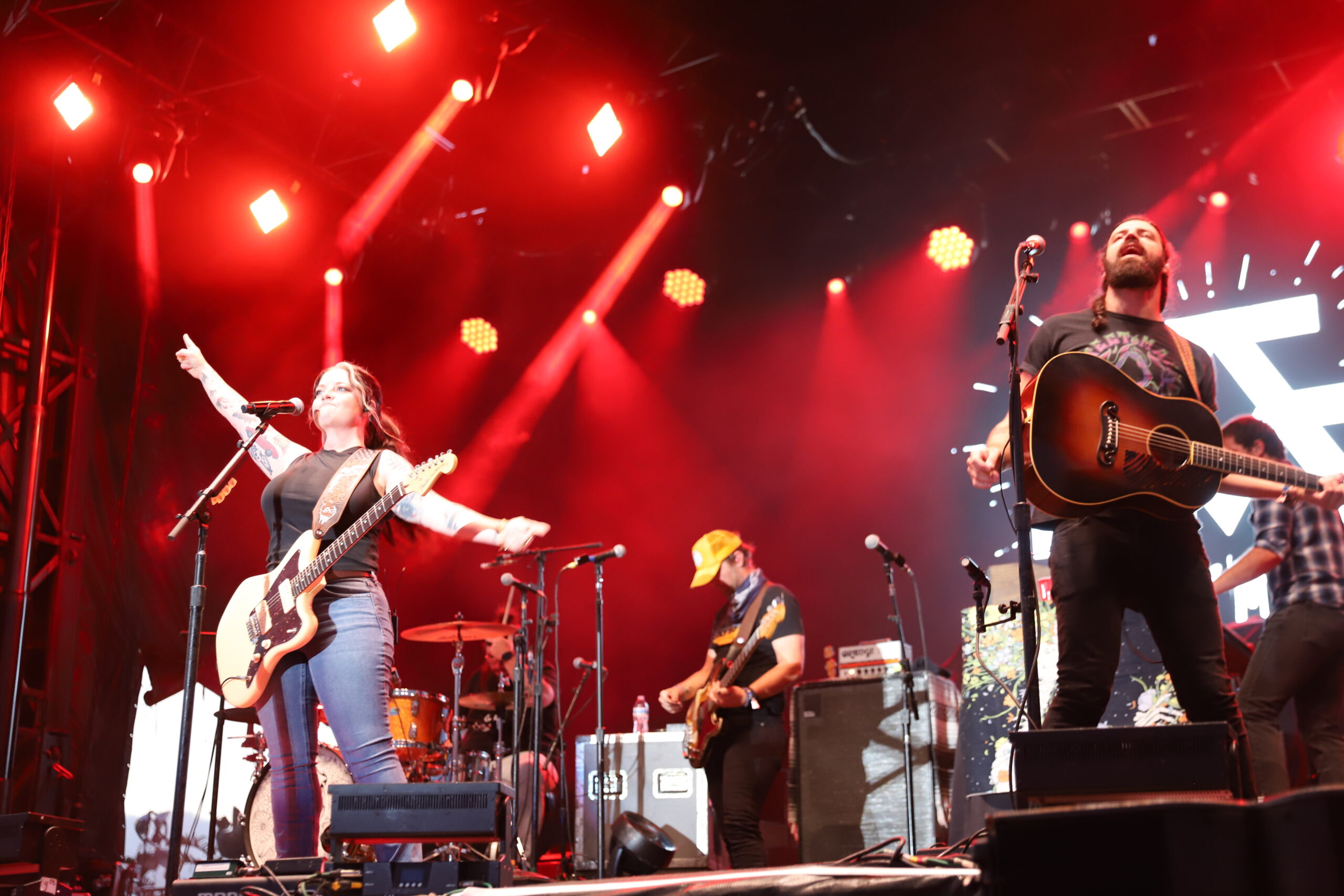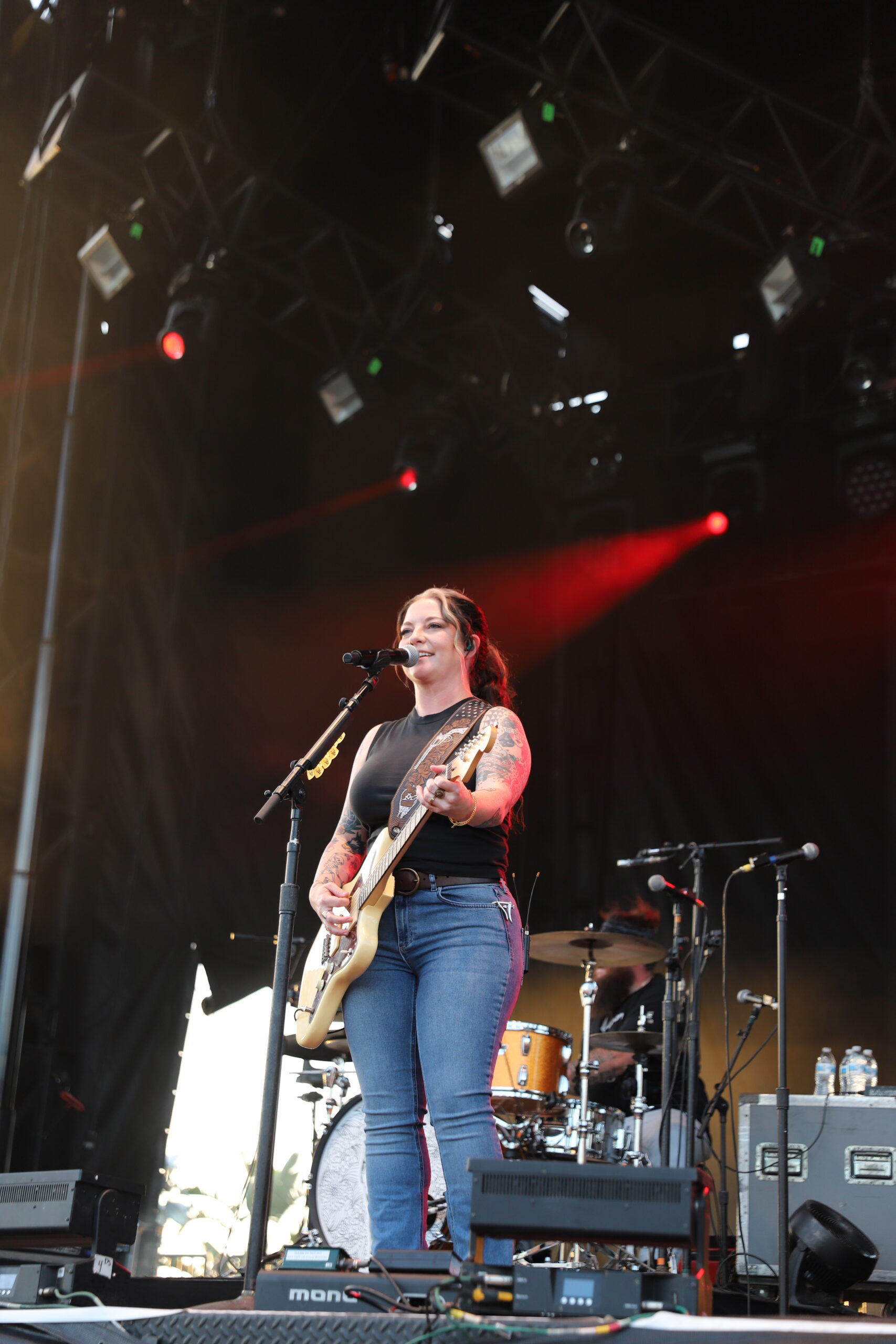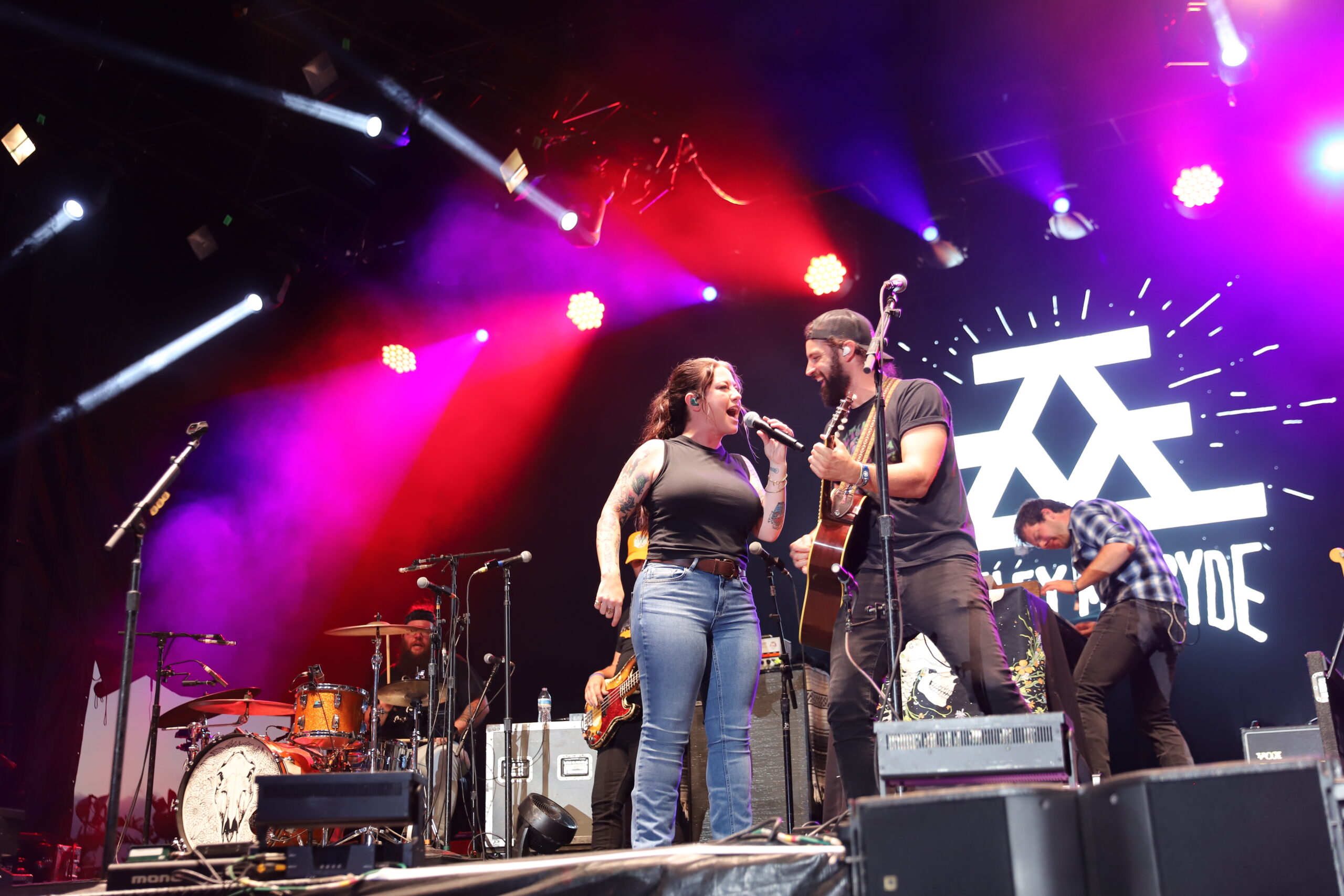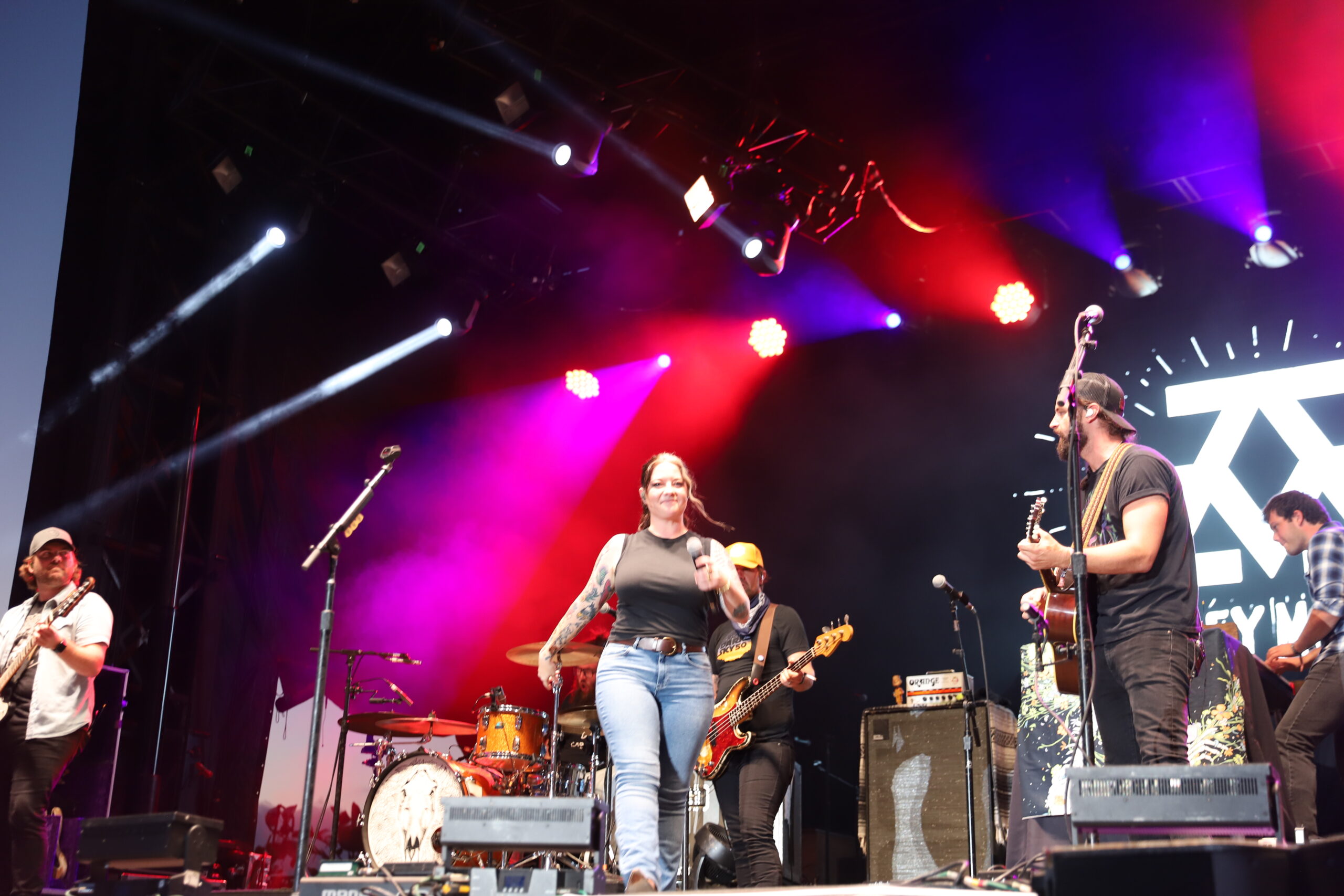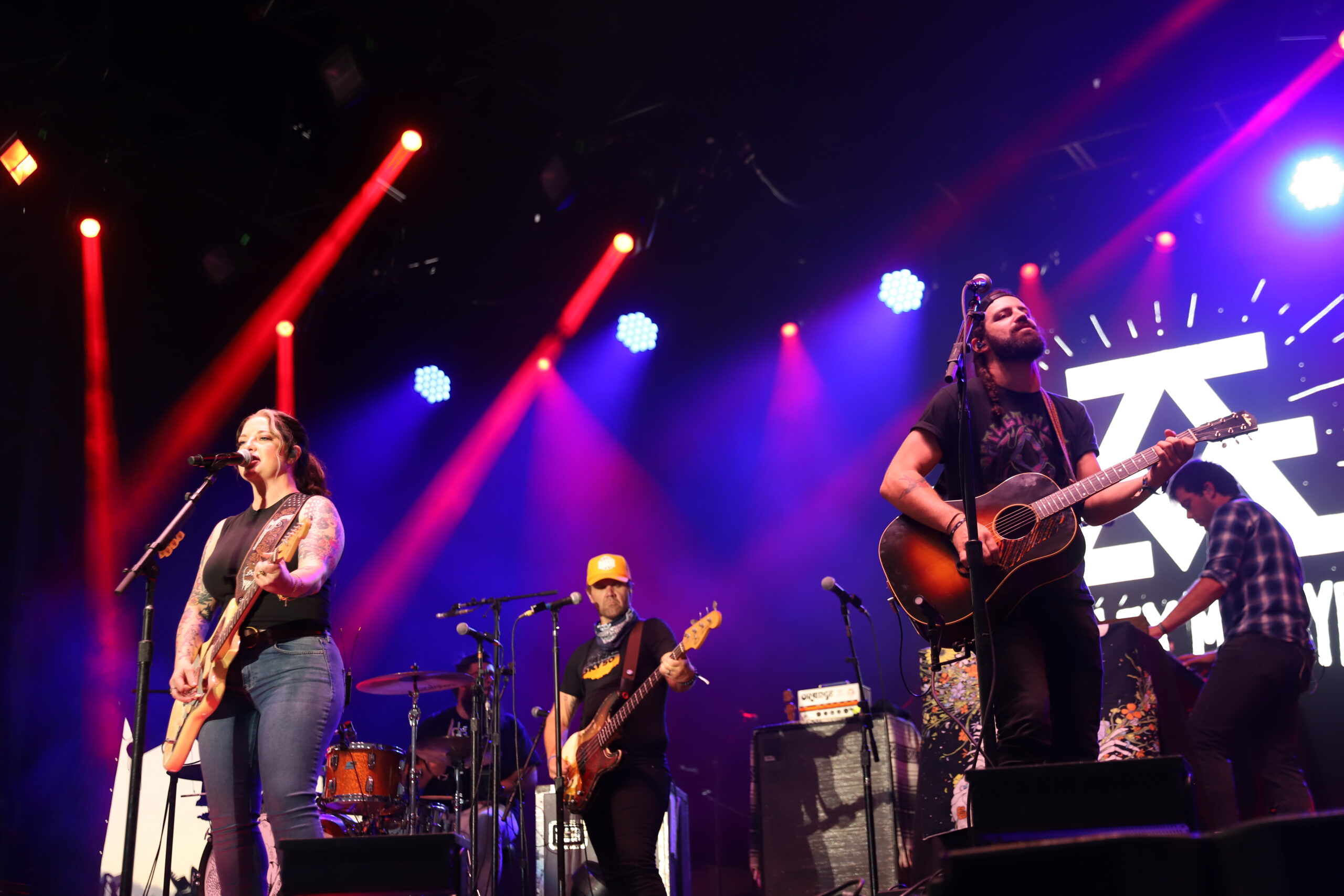 Dierks Bentley (/ˈdɜːrks/; born November 20, 1975[2]) is an American country music singer and songwriter. In 2003, he signed to Capitol Nashville and released his eponymous debut album. Both it and its follow-up, 2005's Modern Day Drifter, are certified platinum in the United States. A third album, 2006's Long Trip Alone, is certified gold. It was followed in mid-2008 by a greatest hits package. His fourth album, Feel That Fire was released in February 2009. A bluegrass album, Up on the Ridge, was released on June 8, 2010; a sixth album, Home, followed in February 2012, as did a seventh one, Riser, in 2014. Bentley's eighth album, entitled Black, was released in May 2016.[3] His ninth studio albumThe Mountain was released in June 2018. His tenth studio album will release early 2023.[4]
Bentley's studio albums have accounted for 27 singles on the Hot Country Songs and Country Airplay charts, of which 18 have reached number one: his debut single "What Was I Thinkin'", "Come a Little Closer", "Settle for a Slowdown", "Every Mile a Memory", "Free and Easy (Down the Road I Go)", "Feel That Fire", "Sideways", "Am I the Only One", "Home", "5-1-5-0", "I Hold On", "Drunk on a Plane", "Say You Do", "Somewhere on a Beach", "Different for Girls", "Woman, Amen", "Living" and "Beers on Me". Eight more of his singles have reached the top 5.
Hot Country Knights is an American country music and parody music band formed by country music singer Dierks Bentley in 2015. The band is composed of alter egos of Bentley and his own road band. Bentley portrays lead singer Douglas "Doug" Douglason, with the other members of his band performing under the names of Trevor Travis (bass guitar), Marty Ray "Rayro" Roburn (lead guitar), Terotej "Terry" Dvoraczekynski (fiddle), Barry Van Ricky (steel guitar), and Monte Montgomery (drums). The members of Bentley's road band have also fashioned fictitous backstories for their musical alter egos. In 2020, Capitol Records Nashville, the label to which Bentley is signed, also signed Hot Country Knights. The band is intended to be a satirical tribute to country music of the 1990s.[1] Variety described the band as "a full Spinal Tap-like musical-comedy act around the mullet-laden, '90s-spoofing conceit."[2]
The band released its debut single, "Pick Her Up", a duet with Travis Tritt, in January 2020. It was accompanied by a music video starring Tiffani Thiessen.[3] Hot Country Knights performed "Asphalt" on Jimmy Kimmel Live on February 5, 2020.[4]
In February 2020, Bentley announced in-character as Douglason that Hot Country Knights would begin touring starting in April 2020, which would later be postponed due to the COVID-19 pandemic. The band also released a second music video for "Asphalt" at this point.[5] Capitol Records announced that the group's debut album, The K Is Silent, will be released on May 1, 2020. Bentley co-wrote five songs on the album, with other collaborators including Brett Beavers, Jim Beavers, and Jon Nite. Terri Clark sings duet vocals on the track "You Make It Hard".[6]
Photo credit : reggaerocknews.com
YONDER
Redneck Rodeo Redneck Rodeo is from Orange County. According to "The BASH. for over ten years Redneck Rodeo has been blazing dusty country trails through the palm lined streets of Southern California. From small bars to large festivals the good ol' boys of Redneck Rodeo fill every venue with a non-stop party. Wrangling through the top country hits of the last six decades, their sets get the crowds singing and dancing in true honky-tonk fashion.
Photo credit : reggaerocknews.com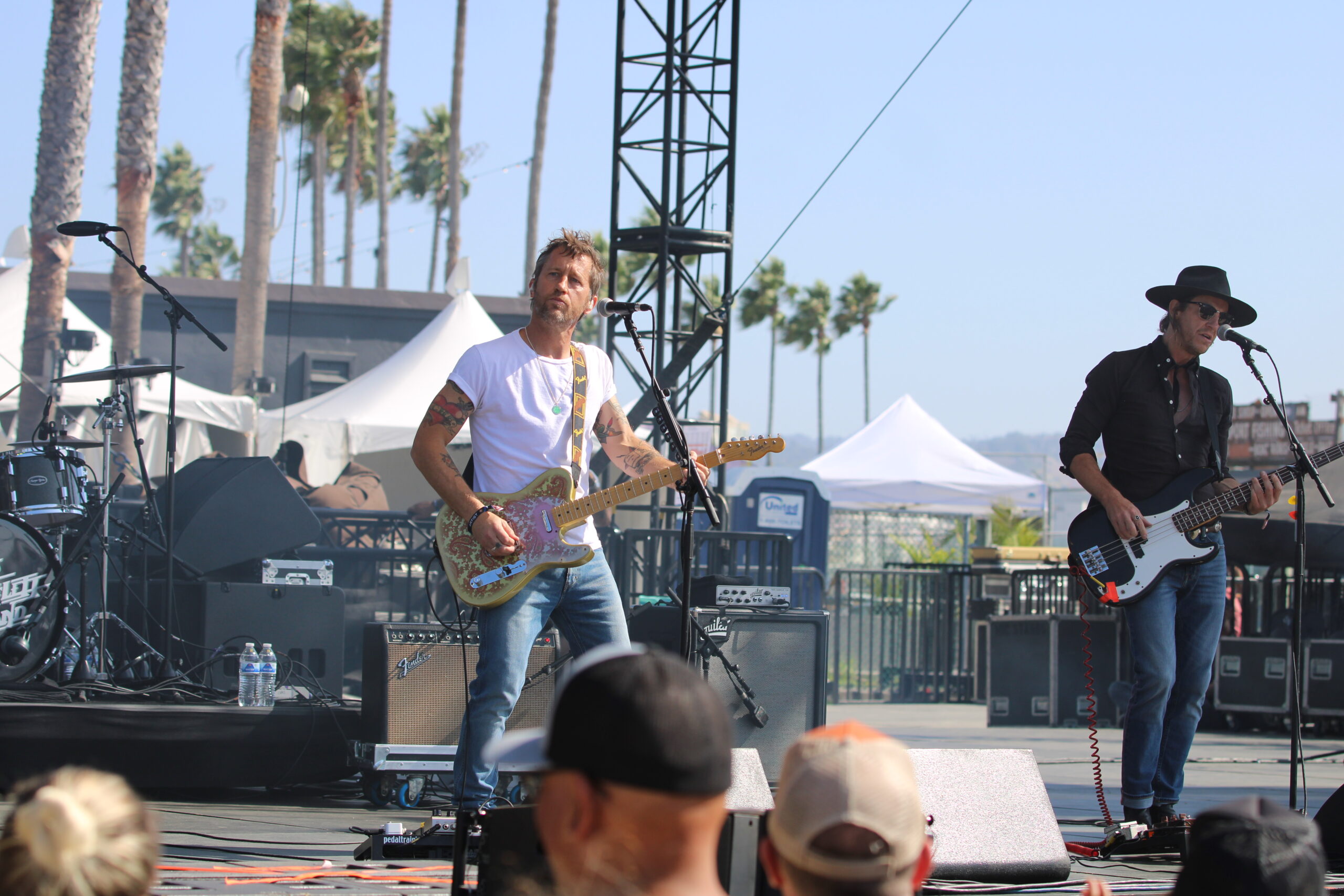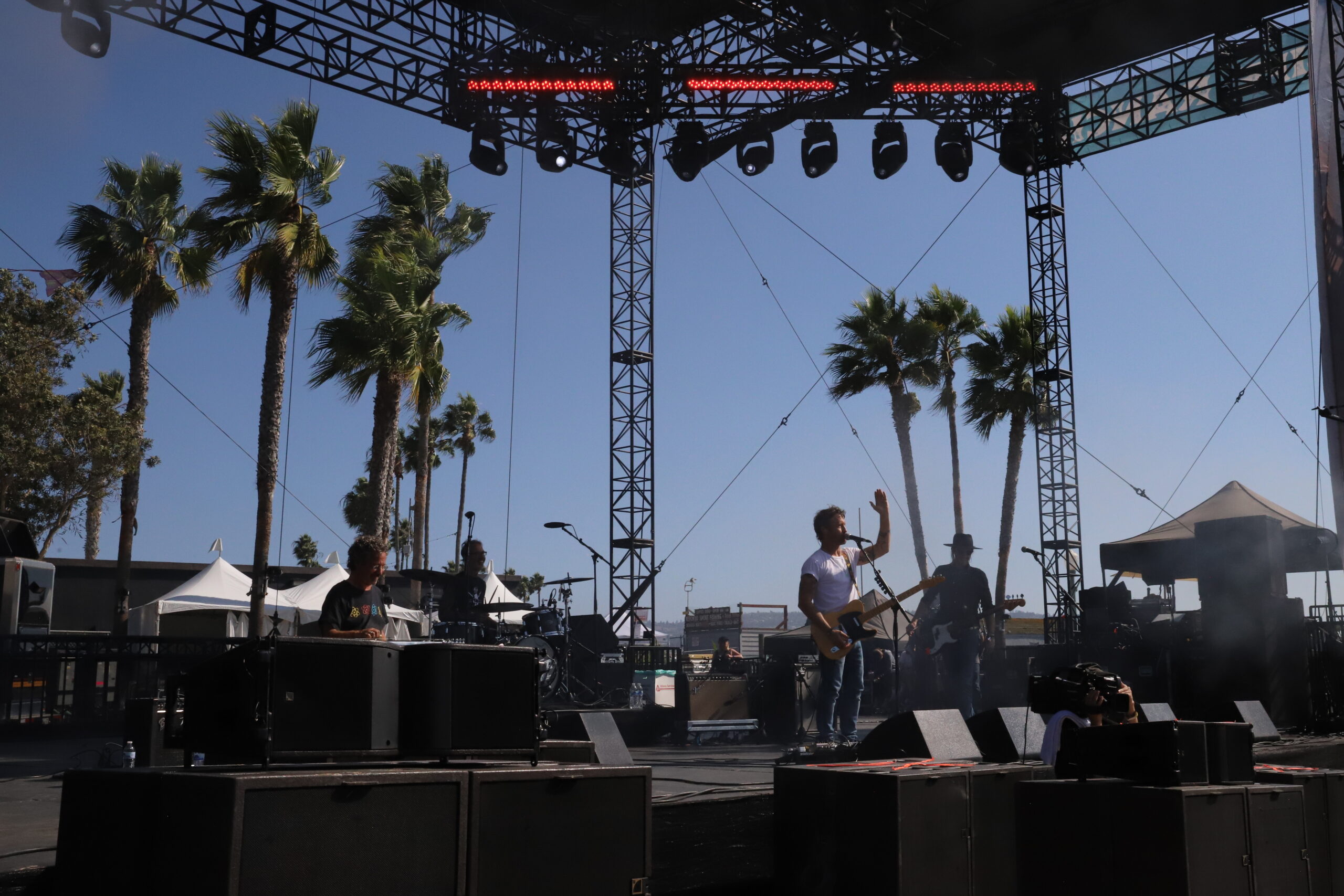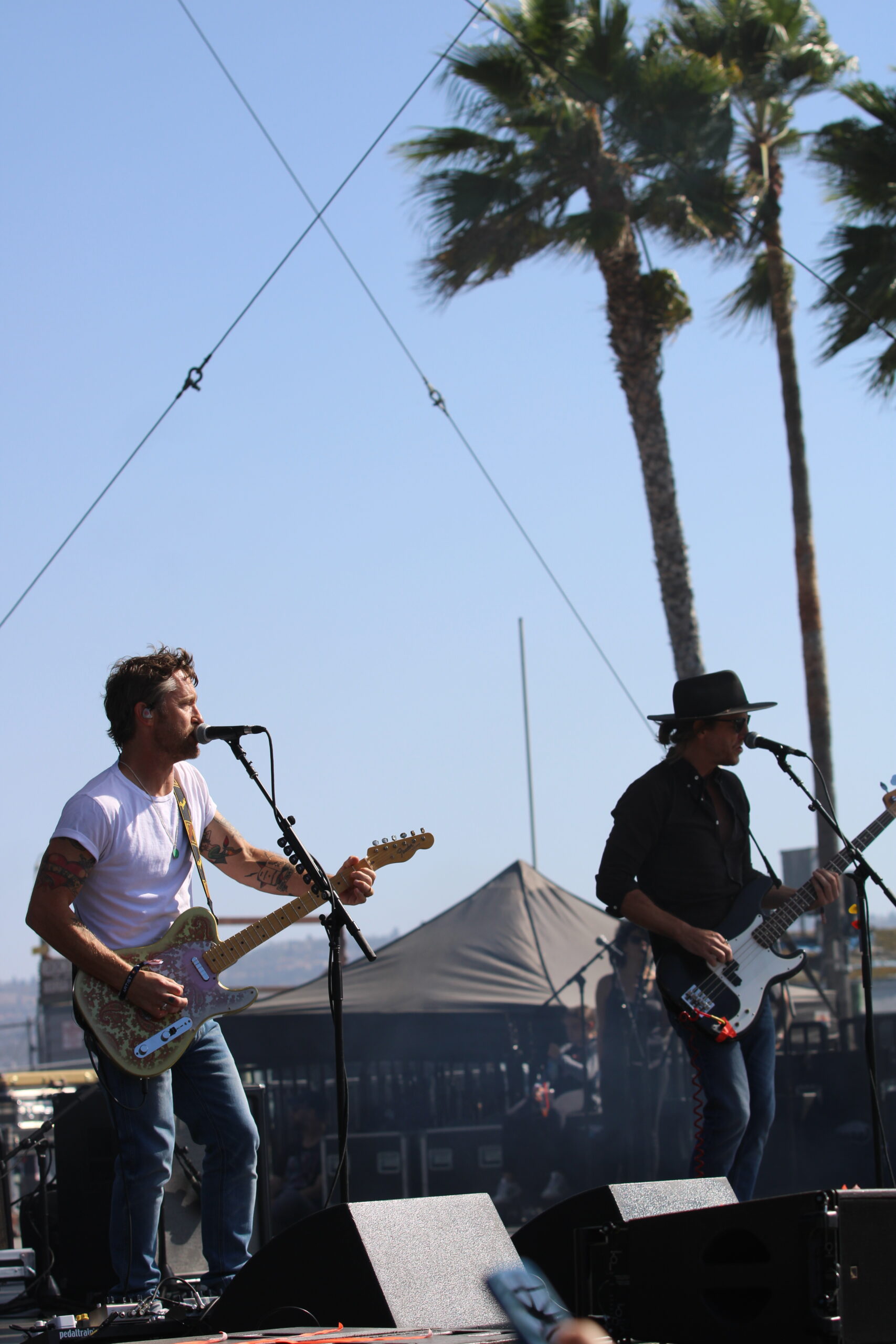 Christopher Shiflett (/ˈʃɪflɪt/ SHIF-lit;[2] born May 6, 1971) is an American musician. He is most recognizable as lead guitarist for the American rock band Foo Fighters. He was previously a member of the punk rock bands No Use for a Name (1995–1999) and Me First and the Gimme Gimmes (1995–2019). He joined the Foo Fighters in 1999 following the release of their third album There Is Nothing Left to Lose, and performed with the Foo Fighters and the Gimmes, as well as several other side projects, simultaneously. He also hosts a podcast titled Walking the Floor and has released two solo albums, the most recent in 2019.
He is the younger brother of musician, Scott Shiflett, who has been the bassist in the punk rock band Face to Face since 1995.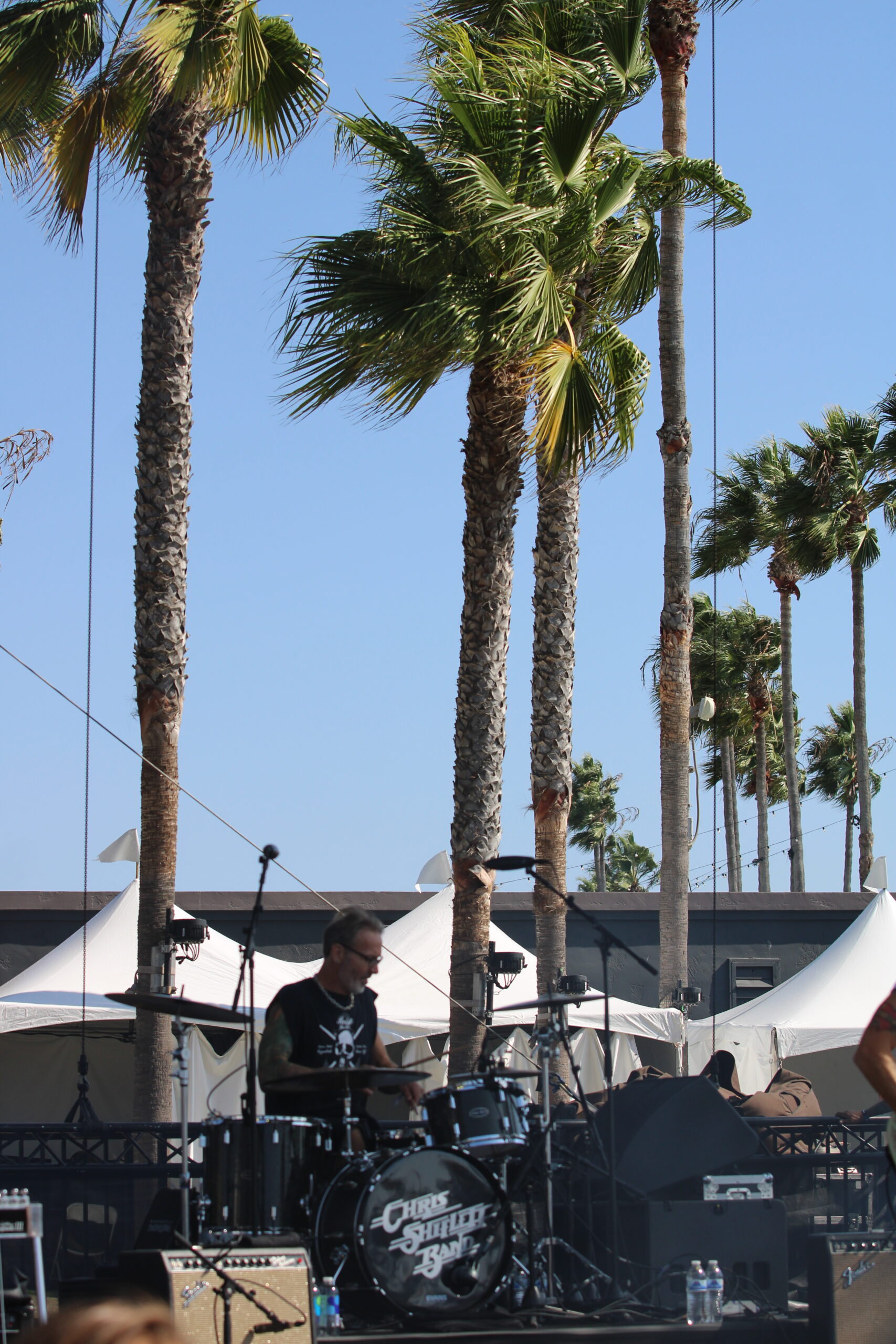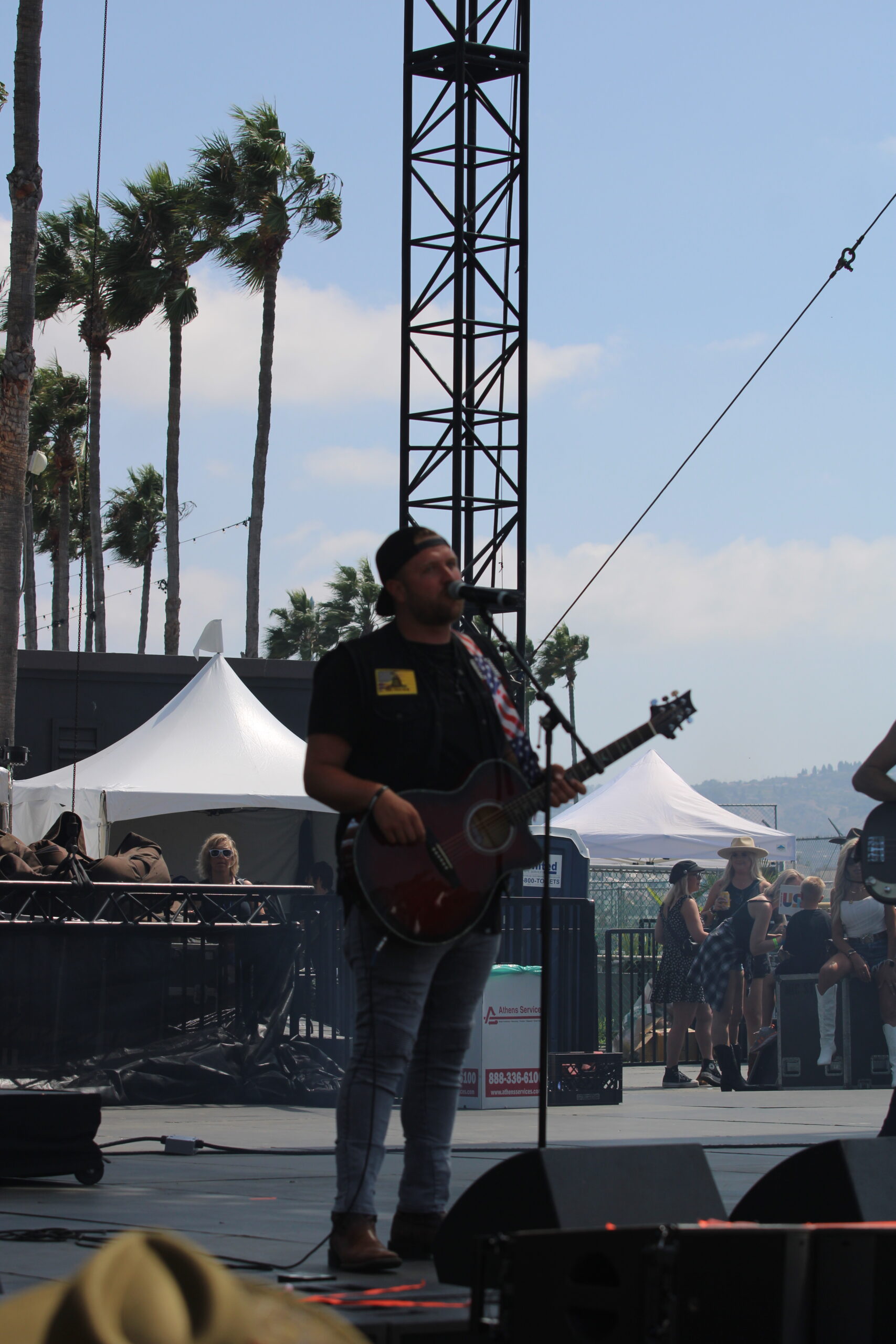 The Infamous Stringdusters are a progressive acoustic/bluegrass band. The band first emerged in 2006 with the limited release of a five-song extended play CD The Infamous Stringdusters,[1] followed in 2007 by their first album Fork in the Road. Both of these were on Sugar Hill Records. The band consists of Andy Hall (Dobro), Andy Falco (guitar), Chris Pandolfi (banjo), Jeremy Garrett (fiddle), and Travis Book (double bass).[2] The band has become known for a complex, distinctive, and groove-friendly sound along with a bluegrass theme.[3]
The Infamous Stringdusters won three awards at the International Bluegrass Music Association Awards Ceremony in October 2007: Emerging Artist of the Year, Album of the Year for Fork in the Road (in a tie with J.D. Crowe & the New South's album Lefty's Old Guitar), and Song of the Year for the album's title cut.[4] The band was also nominated for 2011 Entertainer of the Year by the International Bluegrass Music Association.[5]
In 2011, "Magic No. 9" (from Things That Fly) was nominated for the Grammy Award for Best Country Instrumental Performance. In 2018, they won the Grammy Award for Best Bluegrass Album. In 2021, the band was nominated for a Grammy in the Best Bluegrass Album category for their album "A Tribute to Bill Monroe."
Songs of Waylon Jennings
SPEAKEASY STAGE
Jake Thistle
According to https://jakethistle.com/about  Jake Thistle is a MUSICIAN, SINGER, SONGWRITER
Based in New Jersey, singer/songwriter Jake Thistle has been entertaining audiences for years.
Jake, now 18, has been hired to perform in Europe and across the US, and for crowds of thousands at major music events. Along the way, Jake has personally raised over $100,000 for a variety of charitable organizations through an extensive range of fundraising performances.
Jake has been featured on CBS News, Variety, Billboard, American Songwriter Magazine, BBC Radio, The Record, WCBS FM, NYC's Q104.3 FM, Norman's Rare Guitars, All Guitar Network, and many other news outlets; he has played with legends like John Hiatt, Lou Pallo (Les Paul), Ron Blair and Steve Ferrone (Tom Petty and the Heartbreakers), Jim Keltner (Traveling Wilburys, Bob Dylan), Earl Slick (David Bowie/John Lennon), Jesse Malin, Carmen Vandeberg (Jeff Beck), Severo (The Smithereens), Roy Orbison Jr, Chris Stills, Jeff Slate (Rolling Stone) and many, many other great musicians. He's been on bills with the likes of Jackson Browne, Stevie Nicks, Foo Fighters, Eddie Vedder, Roger McGuinn, Steve Earle, Tom Morello and many other Hall Of Fame musicians. Along the way, Jake has picked the musical brains of rock royalty, such as Tom Petty and the Heartbreakers, Steve Winwood and many other influential artists.
You can learn more about Jake and his upcoming gigs and charity events on Facebook; and find him on Instagram, and YouTube.
SCOTT FLEETWOOD  Musician/Actor/Ocean Dweller
Buckstein
According to his bio @ https://www.bucksteinmusic.com/about
He was Colorado grown — born and raised at 5280. "I don't like country music but I like you." Maybe it's that "no-fear-of-the-edge" mentality that hooks the non-country-lovin' folk… but no doubt the 6'4" bass-baritone powerhouse melts, molds, and moves you the way only a man of country music can. .
The most common question a singer will be asked is, "When did you start singing?" Buckstein's answer: "When I found out that the chicks dig it." Sounds like a punchline but it's the truth.He was 13, at summer camp, trying to figure out how to meet girls like everyone else. A couple of girls were singing "Amazing Grace" and he shyly scooted up next to them and started singing along. "When they found out I could sing they immediately introduced me to all the other girls in the camp," he chuckles. "I've been singing ever since."
His love of country music is thanks to his father who introduced him to the genre. Despite his attempts to hate it– "It takes one good country song to hook ya." Buckstein warns. "Mine was probably 'Thunder Rolls' by Garth Brooks or 'This Ain't No Thinking Thing' by Trace Adkins. I heard those tunes when I was about 11 or 12 and something just clicked—I was hooked."
He continued to grow up a country boy at heart often retreating on horseback into the Rocky Mountains of Colorado. However, living in the city he had the opportunity to explore musical influences outside of the expected box, running a gamut that you can hear in his writing. Influences include blues, rock, rap, top 40 and classics from the '50s.
Buckstein studied theater in college, earning his BA from California State University, Fullerton. He had moved to LA to pursue a career as an actor. "I couldn't get arrested in Los Angeles." he jokes. "One day a few friends of mine went to the 'American Idol' auditions, which was the hottest show on TV at the time. They wanted some company so I went along. I got through and they didn't. It was Idol that set me on a different path." He hit 200 million television sets worldwide as a contestant on the finale of "American Idol" in Season 5, and he returned to Denver with music on the brain.
He started singing with whomever would back him up, growing along the way, learning his craft, year after year, little by little, making friends, music, mistakes, and big moves.. "Those years were invaluable," he says. "They call it 'paying your dues.' It always sounded like a bad thing. But I found out paying your dues can be some of the most fun you'll ever have."
With the help of his band, "The Heard", he has rocked crowds opening for Charlie Daniels, Dustin Lynch, Old Dominion, Eli Young, John Michael Montgomery, Mark Chesnutt, Vanilla Ice, and many, many others. He's gained local fame as a regular guest star writing witty tunes on the spot on Denver's hottest country station 98.5 KYGO and also as the writer and performer of "The Grizzly Rose," which is a popular song and music video about the famous Denver country nightclub… Buckstein wrote the song about his experience during his first week playing at the legendary venue.
He began, as most do, singing covers of all of the artists he was most influenced by. Buckstein embraces covers and thinks that no matter what, "there should always be room in your set to pay homage to the artists and songs that have touched your life. Even when you're selling out arenas with your own stuff you can do that. I have a saying: 'Today we play the songs that others have written… so that someday we may play the songs that we have written… so that someday others may play the songs that we have written.' You gotta put those pauses in there for dramatic effect," he laughs.
Like any cowboy, Buckstein has traversed valleys and mountains to get where he is — and his journey is just beginning.
"Music, especially country, is a way to communicate, to speak our truth, to build a community around timeless old-world ideals: honesty, integrity, facing your fears, caring for others." 
True to the cowboy code, he finds creative ways to explore and communicate universal truths. Buckstein's goal is to bring soul to everything he does. "What people seem to respond most to in my life and in my live performances is my passion, so I work hard to bring that passion to everything I record… my sound gets compared a lot to the great bass-baritones of my time: Trace Adkins, Toby Keith, Josh Turner, and Chris Young.  But I personally hate comparisons.  I don't think Josh Turner wants to hear he sounds like Don Williams," he laughs.  "If my sound were a drink, I'd like to think it would be under a cork instead of a twist cap; a crisp bite with a smooth finish."
He gives all the thanks in the world to his fans and his crew: "Without the people who support me, on stage and off, this would all be for nothing. I try to always surround myself with good people who want to make good music for other good people."
And if you're still wondering, it's pronounced "Buck-steen."
Temecula Road
According to https://www.temecularoad.com/
"With their signature harmonies, backed by acoustic guitar and mandolin, Temecula Road has developed a sound of its own.Signed to Warner Music Nashville and Disney Music Groups's Buena Vista Records, band members Dawson Anderson and Emma Salute boast stage credits worldwide, from Stagecoach Festival in their home state of California to C2C: Country to Country Festival in London. They received a standing ovation at their Grand Ole Opry debut. The band's talents have been called out by the media including Huffington Post, CMT, and Rolling Stone as well as superstar artists including Brett Eldredge, Dan + Shay and more. Temecula Road will be releasing new music in 2022.
Day Three Sunday, September 18, 2022
HITHER Stage 
The War and Treaty are an American husband and wife duo of Michael Trotter Jr. and Tanya Trotter.[1][2]Based in Albion, Michigan, Trotter & (Blount) Trotter was formed in 2014.  They changed their name to The War and Treaty in 2017 after fighting about changing their name for a fifth time. During the argument Tanya yells out "this isn't war Michael, so let's come to some sort of treaty here."  In 2016, Michael Trotter Jr. and Tanya Blount released the duet album Love Affair as Trotter & Blount.[3] In the same year, the duo released the single "Hi Ho" as The War and Treaty.  "Hi Ho" was described by Paste writer Chris Estey as 'the break out soul hit'.  In 2017, The War and Treaty released the EP Down to the River, described as a mix of 'blues, gospel, soul, bluegrass, country' and heralded by Estey as 'a splendidly made immediate classic about conflict and redemption'.[4][5] Estey describes 'in songs about personal turmoil and the dread at the end of time, every kind of fear and joy is addressed through gut-stirring and feet-moving anthems like "Hit Dawg Will Holla", "Set My Soul On Fire", and the title track.  Yet the two can sensually help heal the wounds from those confessional blasts with a sweet ballad like "Till The Mornin'" — they truly live up to the dynamic tension of their moniker.'[5]
In 2018, Rolling Stone reported The War and Treaty's debut album Healing Tide is due for release on August 10, 2018, describing the lead single as a 'joyfully relentless title track, reminiscent of classic Ike and Tina Turner rock-infused soul'.[6]
On September 25, 2020, The War and Treaty released their sophomore studio album, Hearts Town, on Rounder Records. On April 18, 2021 they joined Dierks Bentley for a performance of U2's "Pride (In the Name of Love)" for the 56th Academy of Country Music Awards.[7]
Photo Credit:BeachLife Ranch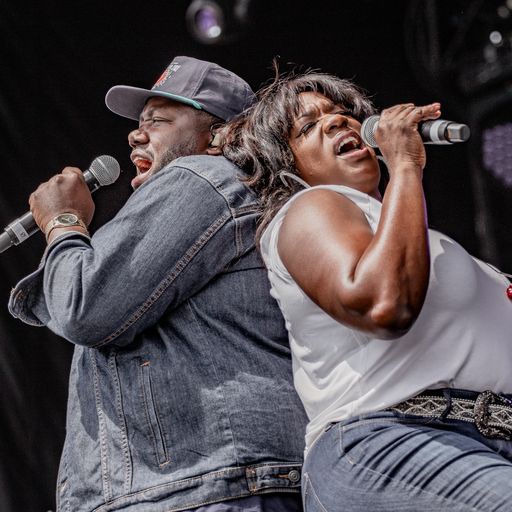 Drive-By Truckers are an American rock band based in Athens, Georgia. Two of five current members (Patterson Hood and Mike Cooley) are originally from The Shoals region of northern Alabama and met as roommates at the University of North Alabama.[1] The group also has roots in Richmond, Virginia.[2]
The band consists of Mike Cooley (lead vocals, guitar, banjo), Patterson Hood (lead vocals, guitar), Brad Morgan (drums), Jay Gonzalez (keys, guitar, accordion, backing vocals), and Matt Patton (bass guitar, backing vocals).[3]
In 2007, Drive-By Truckers backed up Bettye LaVette on her comeback album The Scene of the Crime, which was released on September 25 on Anti Records. Scene of the Crime was mostly recorded at FAME Studios in Muscle Shoals, Alabama. On it, LaVette transforms country and rock songs written by Willie Nelson, Elton John, and Don Henley, among others, into devastating  mini-dramas. Scene of the Crime was nominated for a Grammy Award for "Best Contemporary Blues Album" and landed on numerous "Best of 2007" lists. Drive-By Truckers frontman Patterson Hood produced the album alongside LaVette. The album also features one song cowritten by LaVette and Hood.
Drive-By Truckers backed up Booker T. Jones on his instrumental album Potato Hole, which was released on April 21, 2009. Neil Young also contributed over-dubbed guitar work to the album; the Drive-By Truckers and he never met in studio. Potato Hole features a re-recording of the Cooley penned track "Space City", which originally was released on the album A Blessing And A Curse. The band performed with Jones as "Booker T and the DBTs" at the Bonnaroo Music and Arts Festival on June 14, 2009. On January 31, 2010, Potato Hole won the Best Pop Instrumental Album award at the 52nd Grammy Awards.
In late 2009, Barr Weissman released a documentary on the Drive-By Truckers entitled The Secret To A Happy Ending. The film follows the band over three particularly straining years of their career, and captures their near break up, as well as the departure of Jason Isbell from the band.
Lukas Nelson & Promise of the Real, sometimes referred to as POTR, is an American country rock group based in California.[1] The band consists of Lukas Nelson (lead vocals, guitar), Anthony LoGerfo (drums, percussion), Corey McCormick (bass guitar, vocals), Logan Metz (keyboards, lap steel, guitar, harmonica, vocals), and Tato Melgar (percussion). Lukas is the son of Willie Nelson. Lukas Nelson & Promise of The Real has released 6 studio albums and 4 EP's.
Since 2015, Promise of the Real have been Canadian musician Neil Young's regular backing band. The band has recorded two studio albums with Young, The Monsanto Years (2015) and The Visitor (2017), a soundtrack album, Paradox (2018), and a live album, Earth (2016).
Photo credit: BeachLife Ranch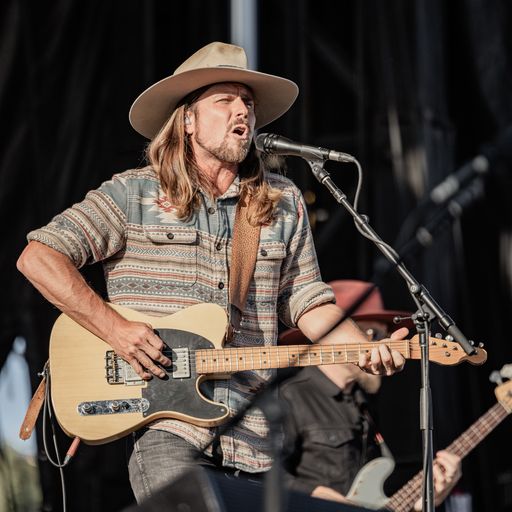 Photo credit : reggaerocknews.com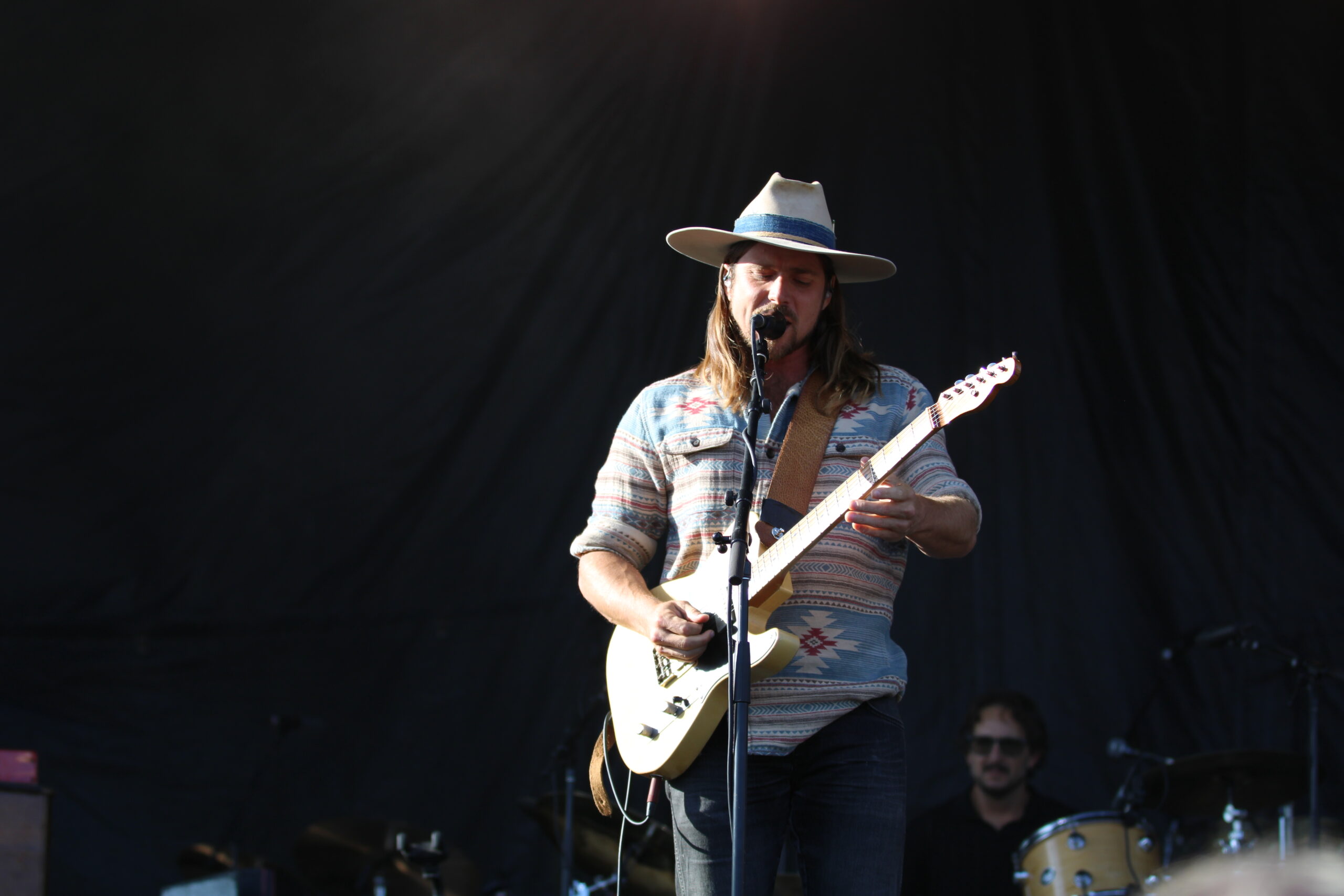 Brandi Carlile[1] (/ˈmæri ˈkɑːrlaɪl/ MARR-ee KAR-lyle; born June 1, 1981) is an American singer-songwriter and producer whose music spans many genres.[2][3] As of 2021, Carlile has released seven studio albums and earned 18 Grammy Award nominations, including one for The Firewatcher's Daughter (2015), six for By the Way, I Forgive You (2018), three for her work as producer and songwriter on Tanya Tucker's album While I'm Livin' (2019), and three for "Right on Time" from In These Silent Days (2021).[4][5][6] She was the most nominated woman at the 61st Annual Grammy Awards, with six, including nominations for Album of the Year (By the Way, I Forgive You), Record of the Year and Song of the Year ("The Joke").[7] In 2019, Carlile formed an all-female quartet with Amanda Shires, Maren Morris, and Natalie Hemby called the Highwomen. They released their debut album, The Highwomen, in 2019 to critical acclaim and commercial success, and won the Grammy Award for Best Country Song for the track "Crowded Table" in 2021.
Born in Ravensdale, Washington, a rural town southeast of Seattle, Carlile dropped out of high school to pursue a career in music, teaching herself piano and guitar. Her debut major label album, Brandi Carlile (2005), was released to critical acclaim yet achieved limited commercial success. Carlile garnered wider recognition with her 2007 single "The Story", from her album of the same name. In 2017, The Story was awarded Gold status by the RIAA for selling 500,000 copies.[8] That same year, Carlile released Cover Stories, featuring 14 artists covering tracks from the original The Story album, including Adele, Pearl Jam, and Dolly Parton, it debuted at No. 30 on the Billboard 200. All proceeds benefited War Child UK, a charity organization to benefit children whose lives have been directly affected by war. Her fifth album, The Firewatcher's Daughter, earned Carlile her first Grammy nomination, for Best Americana Album in 2016, and peaked at No. 9 on the Billboard 200.[9] Her sixth album, By the Way, I Forgive You, was released in February 2018 to critical and commercial acclaim. It debuted at No. 5 on the Billboard 200, her highest charted position to date, and also reached No. 1 on Billboard's Top Rock Albums. Her seventh album, In These Silent Days, was met with further critical and commercial success, debuting at No. 11 on the Billboard 200, and No. 1 on Billboard's Top Rock Albums and Folk Albums charts.
Carlile's music through the years has been categorized in several genres, including pop, rock, alternative country, and folk. She said of her style, "I've gone through all sorts of vocal phases, from pop to blues to R&B, but no matter what I do, I just can't get the country and western out of my voice." Carlile has been a part of several activism campaigns and an advocate for causes ranging from spreading awareness for health issues to LGBT rights and empowerment of women.
YONDER Stage
Jackie Greene (born November 27, 1980) is an American singer-songwriter and musician. He has a solo career and became a member of The Black Crowes in 2013, though the band broke up in 2015 before he could contribute any studio work.
In late 2002, Greene released his first album with DIG, Gone Wanderin',[4] which won the California Music Award for the Best Blues/Roots Album in 2003 and remained on the national Americana charts for over a year. In 2004, Greene released his third album, Sweet Somewhere Bound, and began receiving radio play for singles like "Honey I Been Thinking About You".
Greene has toured nationally with Gov't Mule, Los Lobos, Mark Knopfler, B.B. King, Phil Lesh, Ratdog, Huey Lewis, Susan Tedeschi, Taj Mahal, and Buddy Guy, and has played major U.S. festivals, including All Good, Gathering of the Vibes, Mountain Jam, Grateful Garcia Gathering, Newport Jazz, Newport Folk, South by Southwest, Wakarusa, Winnipeg Folk, Bonnaroo, Outside Lands, and Rothbury. He has performed with Levon Helm at several Midnight Rambles.
In early 2005, he signed with Verve Forecast. Sweet Somewhere Bound was reissued that year, followed by a new release, American Myth, in March 2006.[6] The following year, Greene joined Phil Lesh and Friends, the Grateful Dead bassist's ensemble dedicated to the interpretation of the Dead's extensive song book. Other members of the band at the time included John Molo, Larry Campbell and Steve Molitz. Also in 2005 his song "I Will Never Let You Go" was used in the score for the movie Brokeback Mountain, winning the Academy Award in 2005 for Best Original Score, and which was also released on the Verve label.
In 2007, his cover of "Look Out Cleveland" was included on the tribute album Endless Highway: The Music of The Band.
Meanwhile, Greene continued to pursue solo efforts, releasing Giving Up the Ghost on 429 Records in April 2008, and made his second visit to Late Night with Conan O'Brien in June 2008, performing "Like A Ball & Chain". Another song from the album, "I Don't Live in a Dream", was featured on episodes of the NBC television series Life in November 2008 and ABC's Private Practice in March 2009.
In October through November 2009, Jackie Greene played a series of shows with Gov't Mule, culminating at the end of the tour on Halloween at the Tower Theater in Upper Darby, PA, during which Jackie played and sang through an entire set of Rolling Stones songs with Gov't Mule.[7]
The Jackie Greene Band currently features Nathan Dale on guitar, Jon Cornell on bass, and Fitz Harris on drums. Past members included Jeremy Plog, Steve Taylor, Zack Bowden, Henderson Phillips, Matt McCord, Bruce Spencer, Ben Lefever and Nick Swimley.
Greene was a member of Trigger Hippy.
In the Spring of 2012 Greene, Bob Weir of the Grateful Dead and Chris Robinson of the Black Crowes embarked on an acoustic tour. They called themselves the Weir, Robinson, Greene trio, or WRG for short.
In spring 2013, Greene joined the Black Crowes as lead guitarist, replacing Luther Dickinson, for the band's Lay Down With Number 13 world tour.[8]
More recently, Greene was featured in World Gone Mad, the new album from the Weight Band, on a Jerry Garcia cover.[9] In 2019, he embarked upon his 100% Greene Tour starting with a two-night engagement at Ophelia's in Denver, CO followed by stops at various locations of City Winery.[10]
Maddie & Tae are an American female country music duo composed of Maddie Font (née Marlow) and Tae Kerr (née Dye),[1] both of whom are singers, songwriters, and guitarists. The duo was signed to the revived Dot Records in 2014.[2] Their debut album, Start Here, was released on August 28, 2015, and includes the singles "Girl in a Country Song", "Fly", "Shut Up and Fish", and "Sierra". Following the closure of Dot, they signed to Mercury Nashville in 2018. They released their second studio album The Way It Feels for this label in April 2020, and the first part of their third studio album, Through The Madness in 2022.
Photo credit : reggaerocknews.com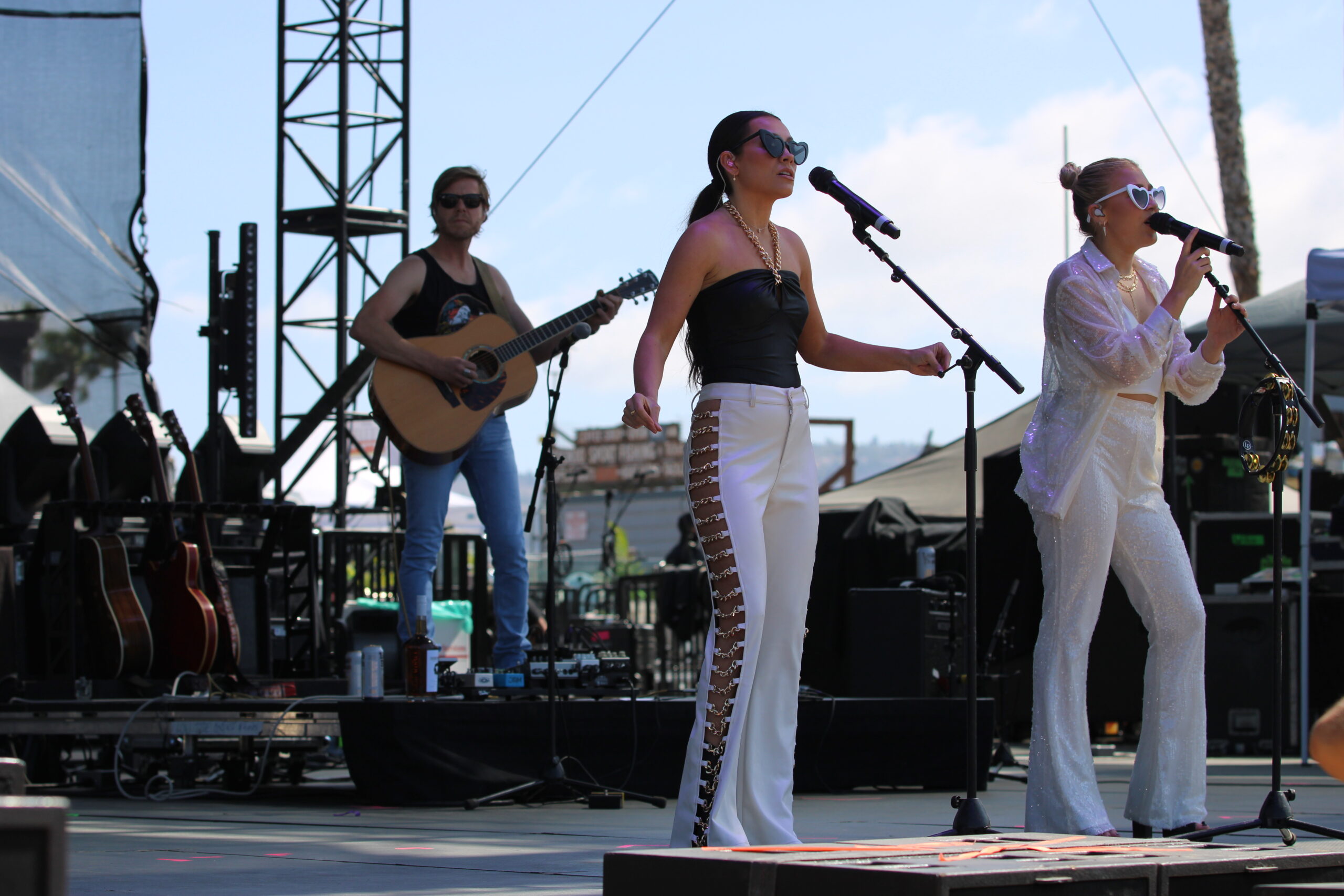 Greensky Bluegrass is a five-piece American bluegrass jam band founded in Kalamazoo, Michigan in mid-2000. The band has evolved over the years, growing from 3 to 5 members, adding electric effects, and touring with a full light show. Partly because of their name, many articles written about the band address the fact that what Greensky does is "not quite" bluegrass. In their own promotional material, GSBG describes their sound as "their own version of bluegrass music, mixing the acoustic stomp of a string band with the rule-breaking spirit of rock & roll".[
The band was formed in the fall of 2000 by Michael Arlen Bont (banjo), Dave Bruzza (guitar), and Paul Hoffman (mandolin), who initially played together at an open mic night.[2] As newcomers to the bluegrass scene, the three drew upon an array of influences and varied musical backgrounds,  reflected in their May 2004 release of Less than Supper, recorded with bassist Chris Carr and dobro player Al Bates. Both Bates and Carr left the band shortly thereafter. Classical cellist Michael Devol had approached Greensky with an offer to assist in management, but ended up joining the group as bassist in the fall of 2004.[3] The group describes their commendatory as more of a brotherhood than a band.[4]
In the summer of 2006 the band were winners of the Telluride Bluegrass Festival Band Competition,[5] earning them a spot on the main stage of the 2007 festival. Soon thereafter they released their second studio album, Tuesday Letter, produced by Tim Carbone of Railroad Earth. They rounded out their line-up in 2007 when they added Dobroist Anders Beck.[6]
On September 23, 2016 Greensky Bluegrass released their latest studio effort Shouted, Written Down & Quoted produced by Steve Berlin of Los Lobos and Co-Produced/Engineered, Mixed and Mastered by Glenn Brown. The bulk of this album was recorded in Asheville, North Carolina in October, 2015.[3] Greensky Bluegrass continued touring, and on January 10, 2020, they released Courage for the Road: Fall 2019 (Live), the first part of two live albums released that year. They followed it with Courage for the Road: Winter 2020 (Live) in March 2020. On Jan 21st, 2022 they released the album "Stress Dreams" Produced, Recorded, Mixed and Mastered by Glenn Brown.[8]
Wilco is an American alternative rock band based in Chicago, Illinois. The band was formed in 1994 by the remaining members of alternative country group Uncle Tupelo following singer Jay Farrar's departure. Wilco's lineup changed frequently during its first decade, with only singer Jeff Tweedy and bassist John Stirratt remaining from the original incarnation. Since early 2004, the lineup has been unchanged, consisting of Tweedy, Stirratt, guitarist Nels Cline, multi-instrumentalist Pat Sansone, keyboard player Mikael Jorgensen, and drummer Glenn Kotche. Wilco has released twelve studio albums, a live double album, and four collaborations: three with Billy Bragg and one with The Minus 5.
Wilco's music has been inspired by a wide variety of artists and styles, including Bill Fay, The Beatles and Television, and has in turn influenced music by a number of modern alternative rock acts. The band continued in the alternative country style of Uncle Tupelo on its debut album A.M. (1995), but has since introduced more experimental aspects to their music, including elements of alternative rock and classic pop. Wilco's musical style has evolved from a 1990s country rock sound to a current "eclectic indie rock collective that touches on many eras and genres".[6]
Wilco garnered media attention for their fourth album, Yankee Hotel Foxtrot (2001), and the controversy surrounding it. After the recording sessions were complete, Reprise Records rejected the album and dismissed Wilco from the label. As part of a buy-out deal, Reprise gave Wilco the rights to the album for free. After streaming Foxtrot on its website, Wilco sold the album to Nonesuch Records in 2002. Both record labels are subsidiaries of Warner Music Group, leading one critic to say the album showed "how screwed up the music business is in the early twenty-first century."[7] Yankee Hotel Foxtrot is Wilco's most successful release to date, selling over 670,000 copies. Wilco won two Grammy Awards for their fifth studio album, 2004's A Ghost Is Born, including Best Alternative Music Album. Wilco released their twelfth studio album, Cruel Country, in May 2022.
Photo credit : reggaerocknews.com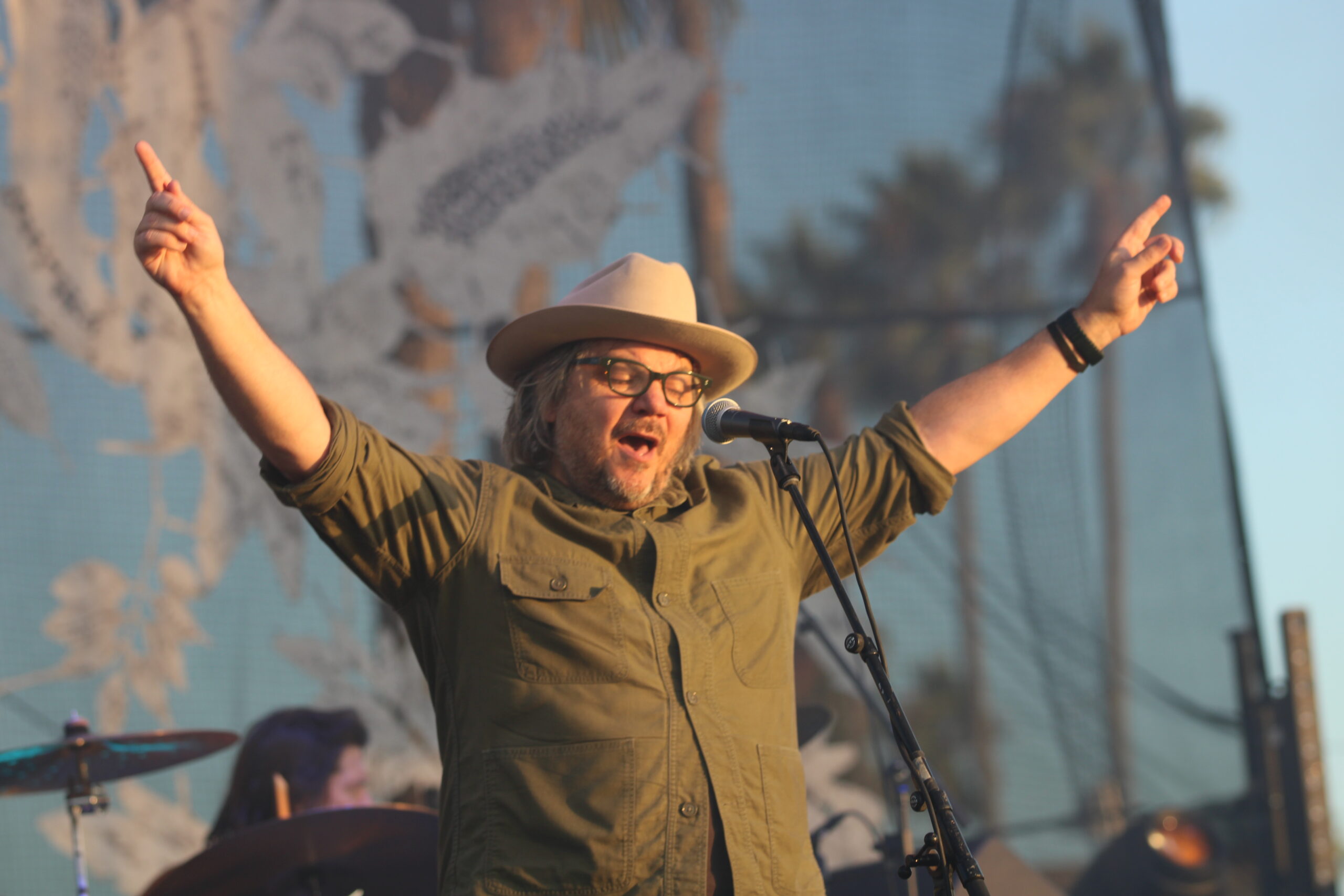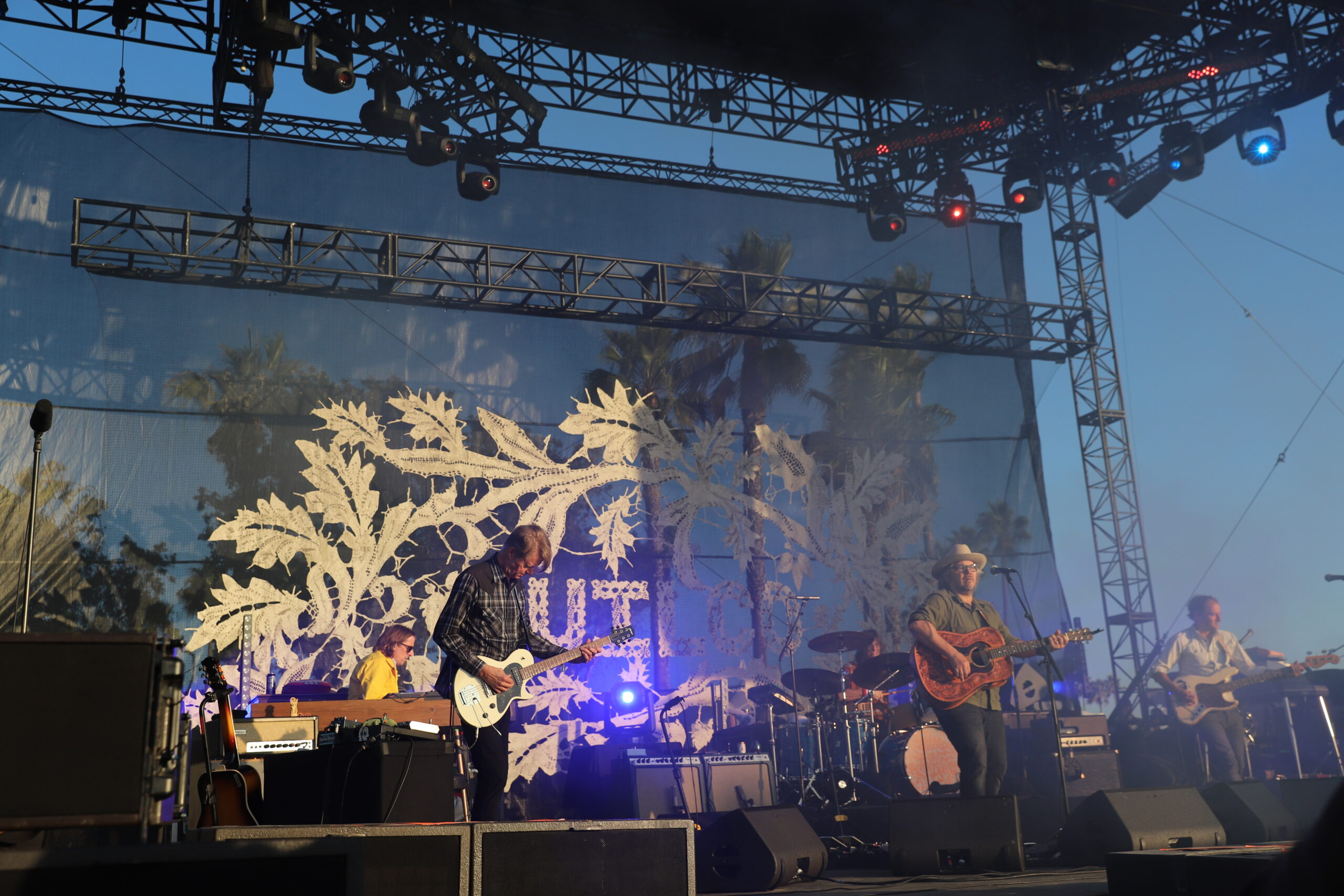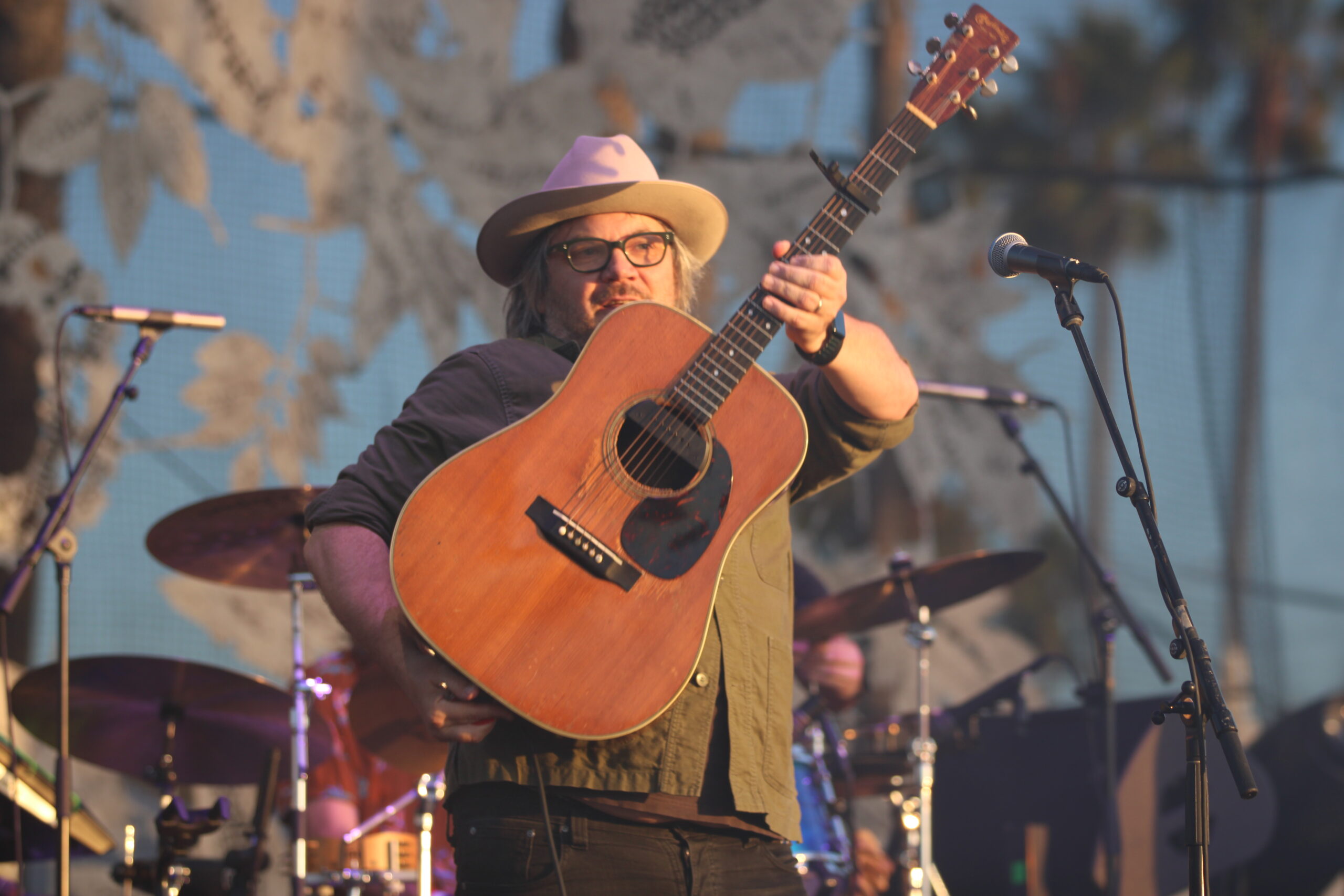 SPEAKEASY Stage
Daniel Bonte is a dynamic entertainer & songwriter widely known in the Southern California Country music scene for his powerful vocals and electric live show. The Indiana native has a unique voice steeped in blues, rock, and soul with a style reminiscent of Luke Bryan, Randy Houser, and his idol Garth Brooks.
Tim Bluhm (born July 22, 1970) is an American songwriter, producer, and multi-instrumentalist. He is the primary singer and guitarist for rock band The Mother Hips.[1][2] He is part of the duos the Skinny Singers with Jackie Greene and Ball-Point Birds with Greg Loiacono, and has been a member of The Rhythm Devils, Brokedown in Bakersfield, and Nicki Bluhm & The Gramblers. He has also performed and released solo material.
Bluhm grew up in Southern California and later attended California State University, Chico. He met the other three original members of the Mother Hips, Greg Loiacono, Isaac Parsons and Mike Wofchuck, in Bradley Hall. Bluhm and Loiacono formed a trio with Ali Weiss called Ali and the Cats that performed during 1990. At the start of 1991, the Mother Hips were formed and quickly became Chico's most popular band. They started touring and releasing albums. Bluhm moved away from Chico in 1996.
The Mother Hips took a hiatus in 2003-2004. During that time Bluhm played shows backed by the band Five Foot Tuesday. Together they were known as the Tim Bluhm Involvement.
In 2005, with San Diego-based singer-songwriter Steve Poltz, Bluhm founded The High Sierra Singer/Songwriter Workshop. The four-day backcountry experience offers attendees the opportunity to write songs and work with Poltz and Bluhm. In 2009, Bluhm's band the Mother Hips started the annual The Hipnic, a two-day music festival in Big Sur, California.
In 2006, Bluhm, Bay Area musician Jackie Greene, and engineer Dave Simon-Baker opened Mission Bells Studio where Bluhm has produced albums for The Mother Hips, Jackie Greene, Hot Buttered Rum, Dave Brogan, and Little Wings. The studio has hosted Phil Lesh, Los Lobos, Rogue Wave, Jonathan Richman, Josh Ritter, and ALO.
In 2007, Bluhm married Nicki and performed with her popular rock band, Nicki Bluhm and The Gramblers, until Bluhm separated from Nicki in 2015. Shortly after Bluhm was severely injured in a speed flying accident.[3]
In 2017, after several surgeries and several battles with infections, Bluhm signed with Joe Poletto, founder of Blue Rose Music from his hospital bed.[4][5]
In August 2018, he released the single "Raining Gravel" (Blue Rose Music), produced by Dave Schools of Widespread Panic.[6]
Lily Kershaw According to Musician Bio
Lily Kershaw  is a folk-pop singer/songwriter with a knack for writing melodic and narrative songs that aren't afraid to move into deeper territory than the typical pop song. After landing a couple of high-profile television placements, she released her debut album in 2013. A follow-up album, Arcadia, arrived in 2019.
A folk-pop singer, songwriter, and guitarist having a knack for composing melodic and narrative tunes that aren't scared to go into deeper place compared to the typical pop track usually will, Lily Kershaw was created and was raised in the LA, California area. Her public discovery came when among her tunes, "SINCE IT Appears," was highlighted in the growing season seven finale of the favorite CBS tv series Criminal Thoughts in 2012. Another tune, "Ashes Like Snow," was once again highlighted prominently in the 8th season finale from the display a year afterwards, which resulted in Kershaw putting your signature on a recording agreement with Nettwerk Information. Her debut record, Midnight in your garden, appeared in nov 2013.
The inaugural year of BeachLife Festival was completely amazing! All the bands were very talented. Day One and Day Two was epic but so was Day Three. To see such a legendary line up of eclectic musicians performing on the coast in Southern California was an all-time high. Hall & Oats  "She's Gone", and "Sara Smile" is locked in my memory.  Hall & Oats sang these old school classics, along with so many other songs and the moments were priceless.
Myron Elkins' kicked off day one on the HITHER stage with the Southern rock blues.  John Doe Folk Trio  played an  acoustic guitar  and sang our favorite solos. Pete Yorn shred an acoustic guitar as the opening act on the  YONDER stage and played a cover of The Rolling Stones "Dead Flowers," which the fans enjoyed.
Old Crow Medicine Show was on fire on the HITHER Stage. They are amazing performers and were one of the best sets.  They are uplifting and had so much energy they were most definately the life of the party. The array of talent was endless with multi genre sounds and delivering a different sound energy.  I cannot say I like one artist better than the other because they were all so different and fantastic. Ashley McBride's  southern sound was so sweet singing her heart out playing some of the following songs and letting the fans know her inspiration behind writing them. "Never wanted to be that girl, One night standards, A little dive bar in Dahlonega, Girl goin nowhere, American Scandal", and many other of her original hits .
Ashley McBryde lit up the stage for  Dierks Bentley's both Nashville stars with southern charm. Dierks Bentley and the hottest "Hot Country Knights singing "She should have been a cowboy" and several other covers songs  closed down day two on the HITHER stage leaving all turned up,  inspired and wanting just one more song after their final song "Sideways" with Dierks Bentley.   "Somewhere on the beach sipping somethng strong"  is where we all were.
The artists performed all day and into the night over the course of the three day festival.  BeachLife Festival is a must do one and only country shoreline jam. This  country music festival was born in the Southbay with top named country music artist and well known musicians that were able to enlighten the souls of the festival goers. The festival was a majical three day event and was the biggest country music festival to hit the beach city.  Thousands of festival goers experienced a first class country music ride with nothing but good vibes It was so well run and managed to perfection. BeachLife Festival kicked up the beach city vibe in the City of Redondo Beach . I highly recommend this country music festival. BeachLife Festival was live streaming  for those who were unable to attend. Get Sideways next year and get your country vibe turned up at the BeachLife Ranch Festival Americana 2023.