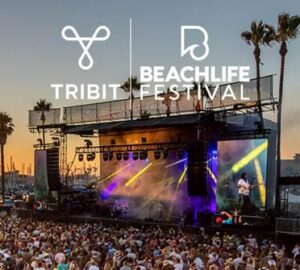 Tribit Partners with BeachLife Festival to Bring a Robust Line of Audio Products and Recharging Spots to the Party 
In collaboration with the largest beach party and music festival, Tribit will be onsite throughout the weekend for exclusive audio experiences for all the music-loving attendees
Newark, CA – May 11, 2022 – Tribit, known for engineering audio devices with expertly balanced sound and award-winning design, announces its partnership with BeachLife Festival, the largest beach party and live music festival in Los Angeles, held at Redondo Beach, May 13-15, 2022.
Over the three-day event, Tribit will be hosting social media giveaways and offering a chance to both test out and purchase products at the Tribit Booth, located near the Tequila Herrardura Cantina. At the booth, festival attendees can receive specialty items from Tribit, including branded hats and t-shirts as well as be able to charge phones and other electronics at the Tribit Charging Station, ensuring that battery life doesn't end before the party does.
Festival goers can also enjoy a special Tribit sponsored experience at the High Tide VIP Deck, located near the High Tide mainstage, where the headline acts will perform. These are the best seats in the house to jam out to performances by Weezer, The Smashing Pumpkins, and Steve Miller Band.
"We make products that deliver the music you love, so we're thrilled to be partnering with BeachLife music festival and are even more excited to welcome attendees to our booth for the ultimate concert experience," said Eric He, Founder and CEO of Tribit. "We'll have audio products on site that cater to all types of passions, whether that be a Bluetooth speaker for a beach day or even earbuds that can be worn while surfing."
Tribit's popular, affordable Bluetooth speakers and earbuds will be available to experience and purchase at the booth, including:
·         StormBox Micro 2 Portable Speaker: Small size, strong bass – this portable speaker can clip to anything from a backpack or tree branch to bike handlebars or a belt loop – wherever your next excursion takes you. Available for $59.99 at Tribit.com and Amazon.
·         MoveBuds H1 Wireless Earbuds: No matter how vigorous the workout, the MoveBuds H1 sport earbuds are waterproof, sweatproof, comfortable, fit securely and has up to 65 hours playback so your music won't end before your workout does. Available for $89.99 at Tribit.com and Amazon.
·         XSound Mega Portable Speaker: Bring the ultimate party vibes with mixed color lighting plus the integrated strap allows you to take the fun anywhere. Available for $99.99 at Tribit.com and Amazon.
·         StormBox Portable Speaker: This portable and powerful Bluetooth speaker is waterproof (IPX7), making it ideal for those trips to the pool or beach. Your music will keep playing even if you toss it into a pool or the ocean. Available for $67.99 at Tribit.com and Amazon.
·         Tribit FlyBuds C1 True Wireless Earbuds: With impressive audio capabilities, the FlyBuds C1 offers up to 60 hours of playtime and powerful noise cancellation for the ultimate audio experience. Available for $79.99 at Tribit.com and Amazon.
"Every music-lover knows the importance of good quality audio products so partnering with Tribit is a natural fit," said Katie Henley, Marketing Director of the BeachLife Festival. "Tribit products are designed for music and outdoor lovers which is synonymous with the BeachLife brand."
During BeachLife Festival weekend select products will be available for 20% off using code BLF20 at checkout at Tribit.com.
To learn more about Tribit's partnership with BeachLife visit www.tribit.com/beach-festival.For additional information about BeachLife Festival visit www.beachlifefestival.com.
To stay up to date on the latest Tribit news, visit www.Tribit.com and follow Tribit on Facebook, Twitter, Instagram, and YouTube.
ABOUT TRIBIT
Tribit provides high-quality consumer electronics inspired by True Sound™ and offers innovative immersive listening experiences for human ear of all shapes and sizes. Tribit is aleading premium audio brand that is synonymous with high quality sound within affordable reach. Tribit products deliver expertly balanced sound that's tested and improved based on feedback from real users. Hear every high and low with Tribit Premium Audio. For more information, visit www.tribit.com.