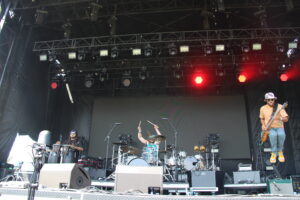 Reggae Rock News:
What's good?
Moises:
We will have some new music during the course of the year. As a matter of fact I just got out of rehearsal with Dan  Kelly. I am headed to hernias Beach and I am going  to play an acoustic set down at the Litehouse. Tomorrows Bad Seeds is playing BeachLife Festival and we are so excited to play in Redondo Beach. BeachLife is an amazing event and we are really looking forward to it.
Reggae Rock News:
How does it feel to perform in front of a festival size audience?
Moises:
From the first moment I step off stage, I feel so honored that I still get to do it and I still get butterflies. I still want to do good. I love performing. I love singing. I love conveying energy and transferring energy and soaking it up. I feel so blessed to be a part of the scene.
Reggae Rock News:
Do you have a label?
Moises: We are independent. We just got out of a contract.
Reggae Rock News:
What do you have in the horizons?
Moises:
I have seven songs in the chamber ready to go, and I'm going to have maybe three or four live ones that are ready to go. I am going  try and release a new one each month  I'll just do one Twitter blast saying I'm dropping a single every month. I am going to try to release one song a month and see what happens.. i opened a new place and goal it to be a real cool spot, with the beat vibes, collaboration and merchandise. Super stoked for the future .
Reggae Rock News:
How did the band get started?
Moises:
We started playing and collaborating with STD's "Surf Till Death", Guttermouth, Pennywise, Rebelution,  Expendables, Iration, B Foundation, Chapter 11, Dirty Heads and many more. We got to one of our first major tours with Pennywise. We got started playing at the Break Wall in Redondo Beach. The band members were originally Matt, I Johnny, Al . . Johnny  and Matt are cousins.  Al was there Uncle. Shawn Chapman lived  across the street to my mom's house. I met Shawn Chapman in my twenties and that is when he got involved with  the band. The band started playing in two thousand or two thousand and one. When Shawn Chapman got involved it was a nice nice ride. His dad gor involved and sponsored us and helped us to solidify a little spot. We then decided to start a new project called "Life". We are pushing forward now and just having a lot of fun with it. The reggae rock scene has  grown so much now. Now, there is so many good bands, and so many good artists are out there. I felt stoked just  to be a part of it. I'm just trying to maintain what I call longevity and relevance.
Reggae Rock News:
You have new music? What has kept you inspired?
Moises:
I feel as an artist you have to keep up with the change. I feel like this is the way you got to go and like, you got to stay relevant and you got to be conscience of the people's ears. If you don't you will fall short.  We love to do extra music, little live acoustic sets, that kind of stuff. We perform cover songs and or  snippets, which helps to keep the vibe moving forward.  That's what everybody needs these days.
Reggae Rock News:
You have BeachLife Festival coming up this weekend?
Moises:
Yes, we do and we are so excited to perform in Redondo Beach. You know, we're just happy to be a part of the scene that we're stoked! We are super excited to play BeachLife Festival.