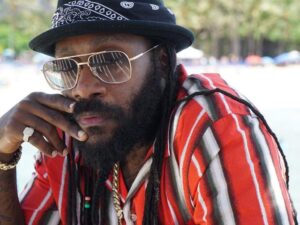 The secret to the success of Tarrus Riley, believe it or not, is quite simple – "when preparation meets opportunity", stated a self-assured Riley. "I've been surrounded by music all my life. My father is a singer and my mother is a bathroom singer", he explains with a chuckle. "Because I can't change the world, I sing for the people – this is the contribution I can make and after I make a song; it isn't even mine anymore; it belongs to the people."
Virtually born and steeped in music, Tarrus Riley has learnt a lot by merely being in the environment of the music business. He caught on very quickly and so "voiced my first song at the age of 13". "I've always loved music; I used to deejay but everyone used to encourage me to sing. They used to call me "Singy Singy" 'cause I'm always singing," he said with a introspective smile. In 2004, Tarrus released his debut album, Challenges – "I was fortunate to have recorded my debut album with an independent label out of Miami".
Tarrus successfully released his sophomore album in 2006 to widespread acclaim and spawned hit singles – "Stay With You", "Beware", "She's Royal", "Lion Paw", among others. "I worked on Parables with Dean Fraser and I wasn't surprised at the success it has had, but how fast it all happened", commented a reflective Riley. "I've known Dean a long time and to work with him on something as great and historic as Parables, is an honour", he also said. "Parables was a confidence builder and has set the foundation for everything else that I will be bringing to my audience".
"I define myself so I make thought-provoking music about Black consciousness and experiences. I want to open people's minds and let them think. My music isn't prejudiced towards colour, class, creed or nationality," he explained passionately. "I target women and children with my music because slavery tampered with the woman's mind and that's why I wrote She's Royal. She's the head of the household so she has the power to influence the young men and women of tomorrow," he further explained.
As with everything in life, a firm foundation is always the safest way to go. Tarrus works with a group of friends on a movement proudly titled BLAKSOIL – Bredren Living According King Selassie-I Overstanding & Iritical Livity. Through this movement, Riley hopes to further target the consciousness of our women and children..
Tarrus has consistently been awarded for his contribution to the industry and for touching the people. "From I released Parables, I've been getting 'Best Singer of the Year" or 'Best Song of the Year' awards, both locally and internationally. But to be honest, the best award I receive constantly is from the people themselves – when I can look in their faces and see the impression my music has made – that is the Best award I can ever get," he comments genuinely. Nonetheless, Tarrus is the proud holder of CVM's 15th Anniversary Award, held in February 2009, for the 'Most Admired Song in the Past 15 Years' for the hit, "She's Royal". "That award really means a lot to me because it was chosen by the people in the streets," he shared keenly.
Serving up "brain food" with a third album on the way, Tarrus is extremely excited. "The new album is titled, Contagious, produced by Dean Fraser on the Canon Production label," he announced proudly. The formula, producing "thought-provoking music", has not been changed, just tweaked a bit, to deliver the same Tarrus Riley with his signature melodies.
"I want everyone to catch this album – it better than flu," he said with a chuckle. "What we do is Contagious; I believe it's a good word to call upon oneself".
Songs, such as "Start Anew" and "Good Girl Gone Bad" (featuring Konshens) from the album, are currently receiving tremendous airplay and ratings in the streets. The "ear-candy" Contagious will be released later this year, via Canon Production and distributed by VP Records.
---