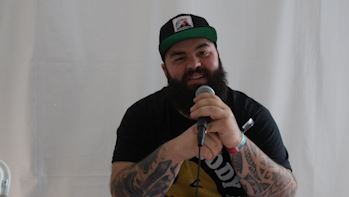 Reggae Rock News:
Hello.
Joe Samba:
How's it going? This is my first time here, and it's been a vibe for sure. It's been fun here.
Reggae Rock News:
How was it playing Cali Vibes this year?
Joe Samba:
Oh, it was amazing. We got to open up Saturday. I got to see Snoop Dogg on the LBC, and the crowd was great, the sound was awesome, and it has been an all-around great experience. I found unbelievable because I'm from the East Coast. So being out here and people actually singing along to my songs and like enjoying themselves, I was really fun.
Reggae Rock News:
How did you get here to California?
Joe Samba:
So recently I just started the Pepper tour. We've played a couple of shows which led to Cali Vibes. I was lucky enough to be coming through and they had a spot and asked me to play it and the next day it's in Sacramento in a couple of day and just hitting the road and checking out California as I go.
Reggae Rock News:
How did you come up with your name?
Joe Samba:
So my real name is Joe Zapatero and it's kind of a clunky last name, so I shortened to Samba. So, Joe Samba is my stage name, but that's how I came up with it.
Reggae Rock News:
What was is it like to have a record reach number one on the Billboards?
Joe Samba:
That felt good because that was early, that's for my first record. I had a song called How We Do, and then that record ended up becoming number one on the Billboard pretty organically I independently put that out and to see it go to number one was mind blowing. It was cool, and it kind of got my name in the mix of things. And now we're here in California it's pretty crazy.
Reggae Rock News:
Can you share some lyrics
Joe Samba:
"Oh, from how we do
now, I've been prepping for a second.
It's nothing but perfection.
Going to la la la la la la.
I need to have this song behind me.
So, I've been prepping for a second release.
Nothing but perfection.
Gonna show the pretty people how we do, baby.
Come on."
Reggae Rock News:
That sounds amazing!
Who do you like to listen to?
Joe Samba:
You know, I have a wide range of influences and music. I listen too a lot of soul and a lot of funk. I'm really into, like, instrumental funk and as weird as a vocalist but I love instrumental music because I always catch myself, like singing over it or coming up with a melody over it or something like that.
Reggae Rock News:
Have you always wanted to play music?
Joe Samba:
When I was a little kid, I knew all I wanted to do was play music. I didn't necessarily think I would ever get to this point, but the opportunities have presented themselves, so I'm taking advantage of as many of them as I possibly can.
Reggae Rock News:
Who have you been collaborating with?
Joe Samba:
So recently I did a song with Jackson from the Elevators which is on my new album, Far From Forever. It's a song called Losing It, and I've known those guys for a long time. They're from the South Shore, Massachusetts and to get to do a song with my boy Jackson was really cool and a really special for us because we come from the same area and it was cool for those guys.
Reggae Rock News:
Who would you like to collaborate with?
Joe Samba:
I would love to get in the studio with Stick Figure and looking forward to so many more collaborations with so many other artists too. I'm open just being accepted in this scene and, having the opportunity to collab with whoever you know would be a privilege. I have a couple of new things coming out with new collaborations, coming out in March and you know, I'm stoked to be dropping new stuff yeah, yeah. I have a collaboration I can't really say much about it yet, but I have a new song coming out in March with one of my idols and I can't wait to announce it.And then my new record, I'm going to be in the studio hopefully in April to start tracking some new stuff and I'll have new music out for sure this year. Yeah.
Reggae Rock News:
What would you say to inspiring artists?
Joe Samba:
Honestly just keep going, ask questions. Don't be afraid to be yourself and it's a hard thing to do but as long as you love what you do, that's really all you need to continue challenging for your family.
Reggae Rock News:
What is it like to balance work and your career?
Joe Samba:
So the biggest challenge right now is I have my fiancée and my one-year-old son back home and I miss them, but I got a great support system back home. They they're cheering me on. It's just really hard being away from my son and my fam. That's really the hardest part right now. But, you know, I asked the universe for a lot of things, and it gave it to me all at once So I'm just kind of rolling with it
Reggae Rock News:
What would you like to say to the audience?
Joe Samba:
You can go to JoeSamba.com. I have my new album that comes out in June, "Far from Forever." If you haven't heard of me, check it out. I hope you like it. And I and yeah, Cali Vibes, it's been a treat.
Thank you. I appreciate it.
From the editor: Thank you so much for the opportunity to meet you.