Fan Exclusive: Meet Freddie McGregor

Your invited to an exclusive virtual meet & greet with Grammy-nominated singer Freddie McGregor! Join Freddie where you'll be able to ask him questions, share ideas & learn more about his role as a pioneer in the Reggae music scene.

Space is limited – grab your ticket before they're gone!
Saturday, June 27th
6:30pm PST / 9:30pm EST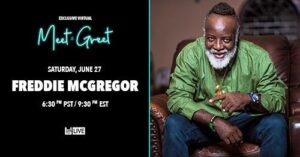 FREDDIE MCGREGOR
Internationally acclaimed, Grammy-nominated singer, Freddie McGregor has been a pioneer in Reggae music since it's inception and continues to be a living pillar of the scene with his conscious lyrics, Philly-Soul style, and dedication to touring for over 50 years. Whether a romantic crooner or an emissary of strong cultural messaging his undeniable vocal ability boasts hits like his signature "Big Ship", "Push Come to Shove", "I Was Born A Winner", "Guantanamera", "Lock Dem' Down" and "Bangarang" – the last 2 being chart-topping hits from the album "Comin' in Tough". With his profound natural talent and notable influence by legends Stevie Wonder, Bob Marley, Alton Ellis, Ken Boothe, Bob Andy and many others, Freddie has finessed his craft to become one of reggae's greatest singers.
What can you expect from the meet & greet?
❤️ A unique and memorable experience via Zoom where you can interact directly with Freddie McGregor
🙌 The opportunity to ask questions, share ideas, hear from Freddie and interact with other members of his fan community
📸 Turn your camera ON for some real face time
🖼️ Fans will also receive a photo of the Zoom chat to commemorate their experience!
PLEASE NOTE: Freddie's meet & greet may be delayed by a few moments pending the end of his Veeps Birthday livestream. If this occurs, we will inform you via email ASAP.