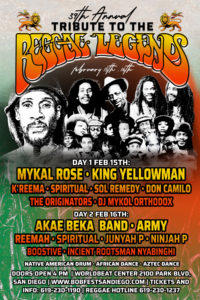 Date and Time
Sat, Feb 15, 2020, 4:00 PM –
Sun, Feb 16, 2020, 11:30 PM PST
Add to Calendar
Location
WorldBeat Cultural Center
2100 Park Boulevard
San Diego, CA 92101
View Map
WorldBeat Productions presents
The 39th Annual TRIBUTE TO THE REGGAE LEGENDS
When: Saturday, February 15th, 2020 and Sunday, February 16th, 2020
Doors Open: 4PM | Show: 4:30PM-Midnight
Where: WorldBeat Cultural Center, 2100 Park Blvd, San Diego – Balboa Park
This Valentine's Weekend, February 15th and 16th, 2020 come join us for the 39th Annual Tribute to the Reggae Legends Fest aka Bob Fest — a Tribute to Vaughn Benjamin of Midnite/ Akae Beka. This all-ages two-day annual event features artists from Jamaica, Virgin Islands and California. Tribute to the Reggae Legends is a part of WorldBeat Center's Black Future Month Celebrations.
You can get your tickets online on Eventbrite or at WorldBeat Center and Reggae World (in North Park). For more details call the Reggae Hotline 619-230-1237 or visit bobfestsandiego.com
2020 LINEUP, A REGGAE LEGENDS TRIBUTE TO VAUGHN BENJAMIN
SATURDAY, FEBRUARY 15TH
MYKAL ROSE (JAMAICA)
KING YELLOWMAN (JAMAICA)
K'REEMAH (JAMAICA)
SPIRITUAL (JAMAICA)
SOL REMEDY (CA)
THE ORIGINATORS (CA)
NATIVE AMERICAN DRUMMING BY TIM RED BIRD AND THE RED WARRIORS
DANZA AZTECA BLESSING
AFRICAN DRUM AND DANCE
SUNDAY, FEBRUARY 16TH
AKAE BEKA BAND (VIRGIN ISLANDS)
ARMY (VIRGIN ISLANDS)
SPIRITUAL (JAMAICA)
REEMAH (VIRGIN ISLANDS)
NINJAH P SOUNDSYSTEM (VIRGIN ISLANDS)
JUNYAH P (VIRGIN ISLANDS)
BOOSTIVE (CA)
DON CAMILO (CHILE) – Just added
INCIENT ROOTSMAN NYABINGHI (JA/ CA)
NATIVE AMERICAN DRUMMING BY TIM RED BIRD AND THE RED WARRIORS
DANZA AZTECA BLESSING
*Lineup subject to change
EACH DAY WILL FEATURE THE NEW SOBER CURIOUS BAR INCLUDING KOMBUCHA ON TAP
About the Festival
Tribute to the Reggae Legends Festival/ Bob Day, has been an annual event in San Diego for 39 years now. The Annual Festival is one of Southern California's Largest Reggae events. WorldBeat Productions has been the spearhead for bringing Reggae Music to San Diego with artists like Peter Tosh, Dennis Brown, Gregory Isaacs, Bunny Wailer, Mikey Dread, Black Uhuru, Steel Pulse, Burning Spear, Lucky Dube, Jimmy Cliff and the brightest stars from Africa, Latin America, Europe and Asia.
The first Bob Marley Day was held at the International Blend on 30th Street and then moved the following years to the Jackie Robenson YMCA, Carpenters Hall, North Park Theatre and Adams Ave Theatre. After reaching its capacity in these venues it was time to bring the team's hugely successful Bob Marley Day festival to the San Diego Sports Arena. After consistently selling out capacity shows for over 10 years, Bob Marley Day transformed into what it is now known as Tribute to the Reggae Legends in honor of all the great reggae artist that have passed throughout the years.
Tags
United States Events
California Events
Things to do in San Diego, CA
San Diego Performances
San Diego Music Performances
Share with friends
Facebook
Facebook Messenger
LinkedIn
Twitter
email