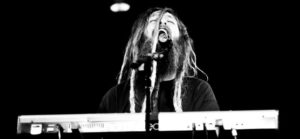 Reggae Rock News had the honor to interview Mike Love. In an exclusive question and answer style interview with Mike Love on his way to a gig with his dad.
Question:
1. How did the band form?
Answer:
Playing awhile a ten piece band is hard schedule hard to get together, so he started doing solo gigs. His wife made revelations to him that made him realize how durable of a musician he was and realizing he was relying on arrangements rather than writing songs on his own. So he started working on a songs it was a spiritual evolution as an artist and he developed a unique one man band style , using looping , multiple instruments and a variety of different vocal techniques and musical styles . He added his percussion brother, and added a slonky base player, keys and horns from big big band to make a full circle. In December of 2012 Mike love released his first solo album.
Question:
2. What inspired that passion to pursue music?
Answer:
He was born and raised on the island of O'ahu Hawaii and was surrounded by a musical influence his entire life. He was born into a musical family, music was the center of his life from the earliest musical memory. He played a lot of instruments growing up and played the guitar as a teenager and wrote a song while playing the guitar. He wanted to do music his entire life. He didn't want to be a banker. He knew he wanted to play music, and he did and got better and better and played with the support his family.
Question:
3. Who are some of your personal favorite personal legends?
Answer:
Bob Marley, Lennon Brothers bands that have a major and profound impact.
Question:
4. Who are some of your personal inspirations?
His personal inspirations come from his family. His parents taught him everything, his wife, children, and contemporary hero's that is where his inspiration comes from. Nahko, Trevor Hall, Xavier Rudd
Question:
5. What is one of your favorite memories from being on tour?
Answer:
So many you know! The last tour we went to Australia. We worked really hard. We had one day off and went to a super crazy roller coaster park. It was the band and Mike Love and they were acting like kids, and having a great time riding big roller coasters. "It was an amazing moment with the band ".
Question :
6. What vibe will you bring to the Arizona Roots Festival 2019?
Answer:
It is his intention at every show no matter where in the world, if it is for ten people or ten thousand people, it is his intent to open up everyone's soul by vibrations and energy. "We get our energy by expanding energy fields and if people let go it opens up and it grows thru music. Energy expands you can reach out and feel the energy intertwining, remembering our whole spirit and the place our spirits once were and connected. We have all been here before and remember our connection to the greatness. Life is fast paced and I want people to not forget to seize the moment, to get people to live in the moment and how precious it is to be in the moment. It is all about positive vibes and connecting. The music heals me as much as it does for those I play for. That's really the inspiration for all I do—healing."
Question:
7. What words of encouragement would you have for new artists?
Answer:
It takes perseverance. " I got where I was by working hard, I kept going I started playing gigs and no one was paying attention, believed in myself and I kept going as hard as it was watching for signs and direction and being open to anything. Find your path, the more I sung the more I discovered something inside myself. It is important to see what works and being honest with yourself. Trying to impress someone and not yourself is not worth it. It is not about getting credit or doing something. It is about trying to help inspire to help lift people up. That is inspiring. If I had a horrible day or if I feel incredible it makes me feel better to work harder to inspire and life them up higher, healing yourself kind of all around. "
Question:
8. Favorite collaboration?
Answer:
Song: "Love will find a way album"
Special song I wrote unfolded to end of say a four point thing overlapped needed four singers in higher range song to play at Tuolumne park. I needed a pure ala pou ended up with a famous singer in Hawaii. Did" Love will find a way album" with , Nahko, Trevor Hall, Paula Fuga which was recorded at Soul Sound Studio and Studio Ala Moana in Kane'ohe, O'ahu, Hawai'i and was released under Love Not War Records.
Question:
9. If you had one wish what would it be?
Answer:
"For everyone to know compassion, and kindness to live in love peace, and harmony for all to love and trust each other unconditionally with their whole heart and live in the heart."
Question:
10. When is the next vinyl dropping?
Answer:
Definitely, with new album version working on releases, working on a new album recording all songs all materials to get to the studio live together is pretty exciting .
Question:
11. Have you ever been to Arizona?
Answer:
Love to play in Arizona! Every show we played two thumbs up! We are looking forward to showing the new music we have been working on to everyone at Arizona Roots Festival!